Scandal-hit French football boss suspended
Noel Le Graet has faced claims of sexual harassment and drew flak for criticism of French icon Zinedine Zidane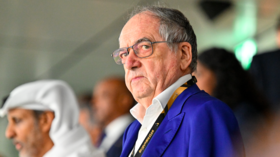 Noel Le Graet, the 81-year-old president of the French Football Federation (FFF), has been forced to step aside from his position following the emergence of sexual harassment allegations against him. He has also drawn widespread scorn within French football in recent days for his criticism of the managerial abilities of former national team captain Zinedine Zidane.
In French football's top job since 2011, Le Graet provoked intense backlash when he appeared to undermine former Real Madrid manager Zidane, a three-time UEFA Champions League winner in the Spanish capital, while speaking to the media about potential replacements for Les Bleus' current head coach Didier Deschamps.
"I wouldn't even have taken his call," said Le Graet of Zidane. "To tell him what? 'Hello sir, don't worry. Look for another club. I just agreed a contract with Didier.'
"It's up to him what he does. It's not my business. I've never met him and we've never considered parting with Didier. He can go where he wants, to a club. He would have as many as he wants in Europe, a big club. But a national side is hardly credible, to my mind."
Le Graet quickly apologized for the comments following rebukes from the likes of superstar forward Kylian Mbappe. However, he soon found himself embroiled in another scandal when 37-year-old football agent Sonia Souid said that she had spurned repeated advances from Le Graet, who she claimed would regularly leave late-night voicemail messages for her.
Le Graet's suspension from the FFF was confirmed on Wednesday following an urgent meeting of the group's executive committee. He will be replaced on an interim basis by vice chairman Philippe Diallo until the investigation is concluded.
Le Graet denies the sexual allegations which have been made against him. His suspension comes after French Sports Minister Amelie Oudea-Castera ordered an investigation into the FFF in September 2022. The federation had previously said it intended to file a defamation lawsuit against a French magazine which alleged Le Graet had been accused of the harassment of numerous female employees.
In addition to his role within the FFF, Le Graet has served on the FIFA Council since 2019 and is up for election for another four-year term in April, where he is running against Portuguese football federation president Fernando Gomes.
You can share this story on social media: