Covid-positive players set to compete at Australian Open
Tournament boss Craig Tiley said there will be no mandatory testing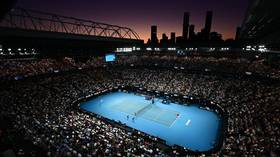 Players at the Australian Open can compete even if they have Covid-19, tournament organizers have said. The stance comes in stark contrast to the stringent measures imposed at the past two editions of the event.
Tennis Australia chief executive Craig Tiley said on Monday that anyone who was feeling unwell would be recommended to remain at home, but that there would be no mandatory testing for players. Instead, the onus will be on them to report any positive Covid tests at the opening Grand Slam of the season in Melbourne.
"There will potentially be players that will compete with Covid," Tiley said in comments shared by The Age. He added that the situation would be similar to the one in cricket, where a recent high-profile match featured a player who continued to compete despite testing positive for Covid-19.
"We just wanted to follow what's currently in the community," Tiley added. "We have gone a step further by making a recommendation around staying away when you're ill, and our medical staff… will continue to monitor that, with the players individually as well."
Players at last year's Australian Open were subjected to regular testing for Covid amid other control measures. The tournament was mired in controversy even before it began when record nine-time men's champion Novak Djokovic was deported in a row over his vaccine status. Djokovic has since had a three-year visa ban overturned by the Australian government and marked his return to the country by winning an ATP tour title in Adelaide on Sunday.
The main draw for this year's event gets underway at Melbourne Park on January 16, when Djokovic will again be among the favorites to contest the men's title. Russian representatives include top-10 men's pair Andrey Rublev, who will be seeded fifth, and two-time Australian Open finalist Daniil Medvedev, who this year will be seeded seventh.
The men's competition saw the official withdrawal of current world number one Carlos Alcaraz with injury this weekend, while the women's draw lost two-time champion Naomi Osaka, whose absence was confirmed on Sunday.
You can share this story on social media: