Doctors give update on NFL star after on-field collapse
Damar Hamlin is showing 'substantial improvement,' according to information from the University of Cincinnati Medical Center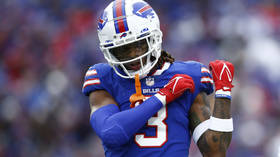 Buffalo Bills safety Damar Hamlin is awake and able to communicate as he continues his recovery from the cardiac arrest he suffered during the game against the Cincinnati Bengals on Monday night.
Hamlin, 24, collapsed at the Paycor Stadium in the first quarter of the game after making a tackle. He was revived on the field and transported to the University of Cincinnati Medical Center, where staff gave an update on his condition on Thursday.
One of the doctors treating Hamlin, Timothy Pritts, said the player is still unable to speak but can move his hands and feet, and can communicate in writing. According to Pritts, Hamlin had asked if his team the Bills had won Monday night's game, leading him to reply: "The answer is yes, Damar, you won. You won the game of life."
While Hamlin is still considered critically ill, he has shown signs of "substantial improvement," doctors said, with his question about the result of the game being a sign that "not only the lights are on, but he's home."
Fellow doctor William Knight praised the response of the Bills' medical team on Monday night as they rushed to Hamlin's aid before he was given CPR on the field. "It's been a long and difficult road for the last three days… He has made a pretty remarkable improvement," Knight said, as quoted by ESPN.
Hamlin remains on a ventilator in intensive care, and it is too early to speculate on how long a full recovery might take – or if that is possible – doctors added.
"When we talk about neurologically intact, it's a very gross term of big motor movements and following commands," Knight said. "When we talk about the finer things that make us human – cognition, emotion, speech, language, etc – we're looking forward to learning more about that soon."
The NFL confirmed on Thursday that it had canceled the Bengals-Bills game, meaning it will not be resumed or replayed. Cincinnati had been leading 7-3 when the action was postponed.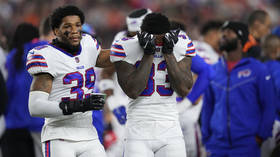 NFL commissioner Roger Goodell said it had been a "very difficult week" but that the league was encouraged by the improvements in Hamlin's condition and the "outpouring for support and care" that the player and his family had received.
The Bills are preparing for their final regular season game against the New England Patriots on Sunday, while the Bengals take on the Baltimore Ravens on the same day. The Bills and the Bengals are battling the Kansas City Chiefs for the top seed in the American Football Conference, which would give them a bye in the first round of the playoffs.
You can share this story on social media: