NFL player critical after on-field cardiac arrest
An NFL game was postponed after a player experienced a serious medical emergency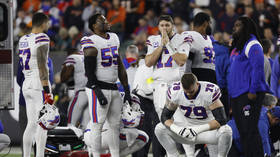 Buffalo Bills player Damar Hamlin is in critical condition in hospital after collapsing and suffering cardiac arrest on the field during a globally-televised primetime NFL game on Monday night.
The defensive back, 24, appeared to injure himself after taking a heavy hit while tackling Cincinnati Bengals wide receiver Tee Higgins. Hamlin initially stood up but then collapsed unconscious moments later.
He was quickly attended to by medical personnel from both teams, with Bills staff stabilizing his head and neck and Bengals doctors supplying a stretcher. He received medical attention – including CPR – on the field for 30 minutes before being transported to hospital via an ambulance which had driven onto the field.
A subsequent statement from the Bills confirmed that he had suffered cardiac arrest but that his heartbeat had been restored on the field.
Several players from both teams were visibly distressed following the incident, with many of them kneeling in prayer while Hamlin was receiving medical treatment.
Others, including Bills quarterback Josh Allen and star receiver Stefon Diggs, struggled to hold back tears. The NFL soon made the decision to postpone the game.
"His heartbeat was restored on the field and he was transferred to the UC Medical Center for further testing and treatment," a statement from the Bills said.
"He is currently sedated and listed in critical condition."
"Our thoughts are with Damar and the Buffalo Bills. We will provide more information as it becomes available," the NFL added in a statement of its own.
"The NFL has been in constant communication with the NFL Players Association which is in agreement with postponing the game."
The majority of the Bills team flew out of Cincinnati on Monday night, with the exception of some – including Diggs – who remained behind to stay with Hamlin. It is also understood that Hamlin's mother was attending the game and traveled with him to hospital.
A representative of Hamlin's later provided an update as to his condition: "His vitals are back to normal and they have put him to sleep to put a breathing tube down his throat. They are currently running tests. We will provide updates as we have them."
A star collegiate player, Hamlin was drafted by the Bills in 2021 and earned a starting place on the team this season. He has drawn widespread appreciation for charity work, hosting Christmas toy drives to provide assistance to underprivileged families even before his break in the NFL.
A crowd-funding page for Hamlin's charity circulated on social media shortly after his injury and has received more than $3 million (£2.5 million) in donations in the hours afterwards.
Several of Hamlin's peers have taken to social media to wish him well.
"Please be ok man. Please be ok," wrote former defensive player of the year JJ Watt.
Ja'Mar Chase, the star receiver for the Bengals, also offered his best wishes.
"I wanna send a prayer to Damar and his family," he wrote.
You can share this story on social media: