Chinese snooker stars suspended amid match-fixing claims
A host of big names have been sidelined as the allegations are investigated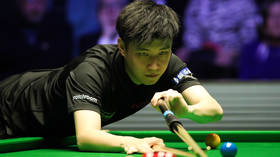 The number of Chinese snooker stars caught up in a match-fixing and betting scandal has risen to ten after Zhao Xintong and Zhang Jiankang became the latest names to be suspended on Tuesday.
Governing body the World Professional Billiards and Snooker Association (WPBSA) said in a statement that the pair will be banned from competing on the World Snooker Tour with immediate effect.
"This decision is part of an ongoing investigation into allegations of manipulating the outcome of matches for betting purposes in breach of the WPBSA Conduct Regulations," the statement added.
"The suspension will remain in place until the conclusion of the investigation or any subsequent charges that may or may not be brought. Both Zhao and Zhang have the right to appeal this decision.
"The WPBSA can confirm that the wider investigation is now at an advanced stage, and it is anticipated will be completed shortly at which point any potential charges will be considered."
The suspensions imposed on Zhao, 25, and his compatriot Zhang, 24, mean that ten Chinese stars are now suspended, although the exact nature of any claims against the players themselves remains unknown.
Zhao is the biggest name to be suspended from competition, having won the UK Championship title in 2021.
He is currently ranked number nine in the world but will now miss the upcoming 2023 Masters, which begins in London at the weekend and is one of the most prominent events on the calendar.
World number 56 Liang Wenbo was the first player to be sidelined by the WPSBA back in October, but the investigation has since expanded to see the suspensions of stars including former Masters winner Yan Bingtao.
Chinese players have increasingly made their mark among the snooker elite in recent years, after the sport was traditionally dominated by players from the UK and Ireland.
You can share this story on social media: