Djokovic backs Russian players
The Serb said bans should not be imposed on stars such as Daniil Medvedev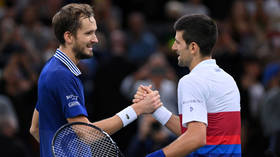 Novak Djokovic has backed the rights of Russian and Belarusian players to appear on the world tennis tour, despite the widespread bans imposed across a range of other sports.
Tennis has been among the outliers in global sport after governing bodies the ATP and WTA allowed players such as Russian men's star Daniil Medvedev and Belarusian women's ace Aryna Sabalenka to continue to compete at major events.
British showpiece Wimbledon was the exception among Grand Slams in 2022 when it prevented Russians and Belarusians from appearing – with organizers being stripped of rankings points and hit with hefty fines by the ATP and WTA as a response.
There have been suggestions in the UK media that bosses at the All England Lawn Tennis Club (AELTC) could change their stance and lift the Russian and Belarusian ban in 2023 as a result of the backlash.
Appearing at the Adelaide International tournament in Australia this week, Serbian star Djokovic said Russians and Belarusians should feature at all the biggest events on the tour.
"Of course, of course, absolutely," Djokovic was quoted as saying when asked if he wanted to see every player compete at every Grand Slam.
"I hope [Daniil Medvedev] and other Russian, Belarusian players will be able to play everywhere," added the 21-time Grand Slam winner.
Djokovic himself faced restrictions last year, being deported from Australia 12 months ago in a row over his Covid vaccine status.
The 35-year-old was later prevented from playing at the US Open because of American entry rules on unvaccinated non-citizens.
Djokovic has returned to Australia after the government overturned his three-year entry ban, and he won his first singles match of the season against France's Constant Lestienne at the ATP 250 event in Adelaide on Tuesday.
Djokovic next plays another Frenchman, Quentin Halys, in the round of 16 on Thursday.
Elsewhere in the draw, Russian pair Medvedev and Karen Khachanov will meet in the quarterfinals on Friday, with the winner potentially taking on top seed Djokovic in the semifinals.
While Medvedev, Khachanov and their compatriots are able to compete under neutral status on the ATP tour, they have been banned from team events such as the United Cup which is currently taking place at three venues across Australia.
Medvedev said this week that he was disappointed not to be able to feature in the tournament, but was nonetheless happy to be in Adelaide as he gears up for the Australian Open in Melbourne later in January.
You can share this story on social media: