Medvedev speaks of disappointment over United Cup ban
Russia has been banned from taking part in the pre-Australian Open event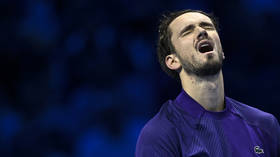 Russian tennis star Daniil Medvedev has spoken of his disappointment at not being permitted to take part in the ongoing pre-Australian Open warmup event, the United Cup.
Russia is currently ineligible to take part in the tournament due to sanctions on the country's ability to compete in team events such as the United Cup, a hard-court event which features mixed-gender teams from 18 countries.
Instead, Medvedev will compete at the Adelaide International as he works towards readying himself for another bid to win a Grand Slam at the Australian Open, where he has twice reached the final in the past.
Speaking to the media ahead of his match against Italy's Lorenzo Sonego on Tuesday, Medvedev made it clear that the Adelaide event wasn't his first choice tournament ahead of the Australian Open.
"I would definitely prefer to play the United Cup," he said. "We would definitely be good favorites. But it is what it is, and I'm happy to be here in Adelaide playing in this tournament.
"I completely understand why we are not playing Davis Cup or United Cup and team competitions where we would represent our country," Medvedev added.
"Hopefully, I can play the individual events. I play what I can play, so here I can play Adelaide, and I'm really happy about it. I want to show my best tennis."
The Russian isn't the only big-name player taking part in the Adelaide tournament, where he will be joined by both Novak Djokovic – playing in Australia a year after his contentious run-in with the country's immigration authorities – and Felix Auger-Aliassime.
"I feel like everybody is a little bit nervous, and that's normal. This feeling of the first tournament of the year is really special," Medvedev explained.
"I like playing in Australia, so [I'm] really looking forward to it."
And with the glare of the public firmly fixed on Djokovic, Medvedev is anticipating a potential showdown with his rival ahead of the Australian Open.
"I'm motivated to be in the [Adelaide] semis and, if it's Novak there, it's great," he said.
"If it's somebody else who beats him, I don't care much. I just want to be in the semifinals to start, and I don't care who I play."
You can share this story on social media: