Ronaldo in awkward blunder at Saudi unveiling (VIDEO)
The Portuguese superstar was presented to fans at Al Nassr on Tuesday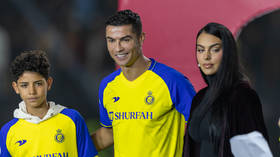 Cristiano Ronaldo made a slip of the tongue as he was presented to the media by new team Al Nassr, saying he was in South Africa rather than Saudi Arabia.
Ronaldo was unveiled at a glitzy ceremony in Riyadh on Tuesday, where he dismissed claims that heading to the Saudi league was a significant decline for a man who has insisted he is still capable of playing at the very top level.
But while defending his Saudi move, Ronaldo appeared to confuse where he had landed, mistakenly telling the media: "It's not the end of my career to come to South Africa."
Apart from the geographical mishap, Ronaldo argued that he was as motivated as ever to be joining Al Nassr on a "unique" deal
"In Europe my work is done. I won everything and played for the most important clubs in Europe. This is a new challenge," said the five-time Ballon d'Or winner as he was presented at the Mrsool Park stadium.
Ronaldo has moved to the Middle East after his contract at Manchester United was terminated in November as the result of an explosive interview with UK television personality Piers Morgan.
The Portuguese star's two-and-a-half-year deal with Al Nassr is said to be worth up to €200 million ($212 million) a season when commercial agreements are factored in – a sum believed to be a record for a footballer.
"I beat all the records there [in Europe]. I want to beat a few records here. This contract is unique but I'm a unique player, so for me it's normal," said Ronaldo.
"I really don't worry about what people say. I am really, really happy to be here. I know the [Saudi] league is very competitive."
Ronaldo claimed he had "given his word" to sign for Al Nassr despite supposedly receiving offers from elsewhere.
"Nobody knows this, but I had many opportunities in Europe, Brazil, Australia, America, Portugal, many clubs tried to sign me," said the forward.
"I gave my word to this club. I want to give a different vision of this country and football. This is why I took this opportunity."
Ronaldo concluded his deal with Al Nassr amid a split with longtime super-agent Jorge Mendes, according to reports in Portugal.
The pair are said to have disagreed over the football star's decision to go ahead with his incendiary interview with Morgan, which precipitated Ronaldo's exit from Manchester United on the eve of the World Cup.
Portugal's campaign in Qatar ended at the quarterfinal stage against Morocco, with Ronaldo leaving the pitch in tears and scoring just once at the tournament as he ended up being shunted to the sidelines by manager Fernando Santos.
Compounding matters, generational rival Lionel Messi went on to lead Argentina to their first World Cup success in 36 years.
In Riyadh on Tuesday, Ronaldo was greeted by his image adorning a multitude of billboards in the yellow and blue colors of nine-time Saudi Pro League winners Al Nassr.
Ronaldo has already trained with his new teammates ahead of the next game for Rudi Garcia's men against Al Ta'ee on Thursday at the 25,000-seater Mrsool Park.
You can share this story on social media: