Al Nassr: Who are the Saudis paying record money for Ronaldo?
The Portuguese star has signed the biggest contract in football history as he moves to the Middle East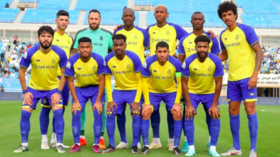 Cristiano Ronaldo, one of the most prolific forwards in the history of football, has signed a two-and-a-half-year deal to play for Saudi Arabian team Al Nassr.
Ronaldo will be rewarded with an eye-watering sum reported to be in the region of €200 million per season ($214 million), signaling the beginning of the end of a career which enthralled and, for the latter period of his Manchester United tenure at least, infuriated some of his legion of fans.
One would suspect that Ronaldo's exit from European football was very much a 'Plan B' given that he turned down a similar offer from another Saudi club, Al Hilal, last summer.
But with his options apparently exhausted after a series of poor performances for Manchester United this season, as well as a subpar World Cup in the colors of Portugal, it would seem that football's most famous name became an unaffordable luxury for most of Europe's elite clubs.
Typical of the man, Ronaldo's excommunication from European football comes with one very prominent silver lining – he can refer to himself as football's best paid player, even on the eve of his 38th birthday.
But who exactly are Al Nassr, and what type of challenge will be waiting for Ronaldo when he pulls on their yellow jersey next month?
We take a look at the Portuguese icon's new club, his teammates, and what he can expect in his two-and-a-half years in the Middle East.
You can share this story on social media: