Women's former world number one suspended after positive doping test
Romania's Simona Halep has been provisionally banned after returning a positive sample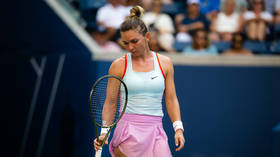 Former women's world number one tennis player Simona Halep has been provisionally suspended after testing positive for a banned substance in a sample taken at the US Open earlier this year, tennis officials have announced.
The International Tennis Integrity Agency (ITIA) issued a statement on Friday confirming the news that the two-time Grand Slam winner would be sidelined while her case is investigated.
"The ITIA sent the player a pre-charge notice of an Anti-Doping Rule Violation on 7 October 2022," the organization stated.
"Halep, who has a WTA ranking of nine, provided a sample whilst competing at the US Open in August 2022.
"The sample was split into A and B samples and the subsequent analysis found that the A sample contained FG-4592 (Roxadustat), which is a prohibited substance listed in the 2022 World Anti-Doping Agency (WADA) Prohibited List.
"Adverse Analytical Findings for non-specified substances carry a mandatory provisional suspension," it added.
The ITIA said that Halep had requested that her B sample be analyzed, which confirmed the same result for Roxadustat, which is an anti-anemia drug.
"While provisionally suspended, the player is ineligible to compete in or attend any sanctioned tennis events organized by the governing bodies of the sport," noted the ITIA, which governs anti-doping regulations in tennis in line with the World Anti-Doping Agency (WADA) Code.
Halep is a two-time Grand Slam winner, triumphing at the French Open in 2018 and Wimbledon the following year.
She has also been a finalist at the Australian Open, and first reached the world number one spot back in 2017. In total, Halep has spent 64 weeks at the top of the WTA charts during her career.
Halep suffered a shock first-round exit at the US Open to Ukraine's Daria Snigur in August, after which she underwent nasal surgery – ending her 2022 season.
Responding to the news of her provisional suspension, the Romanian issued a message to fans on her social media channels.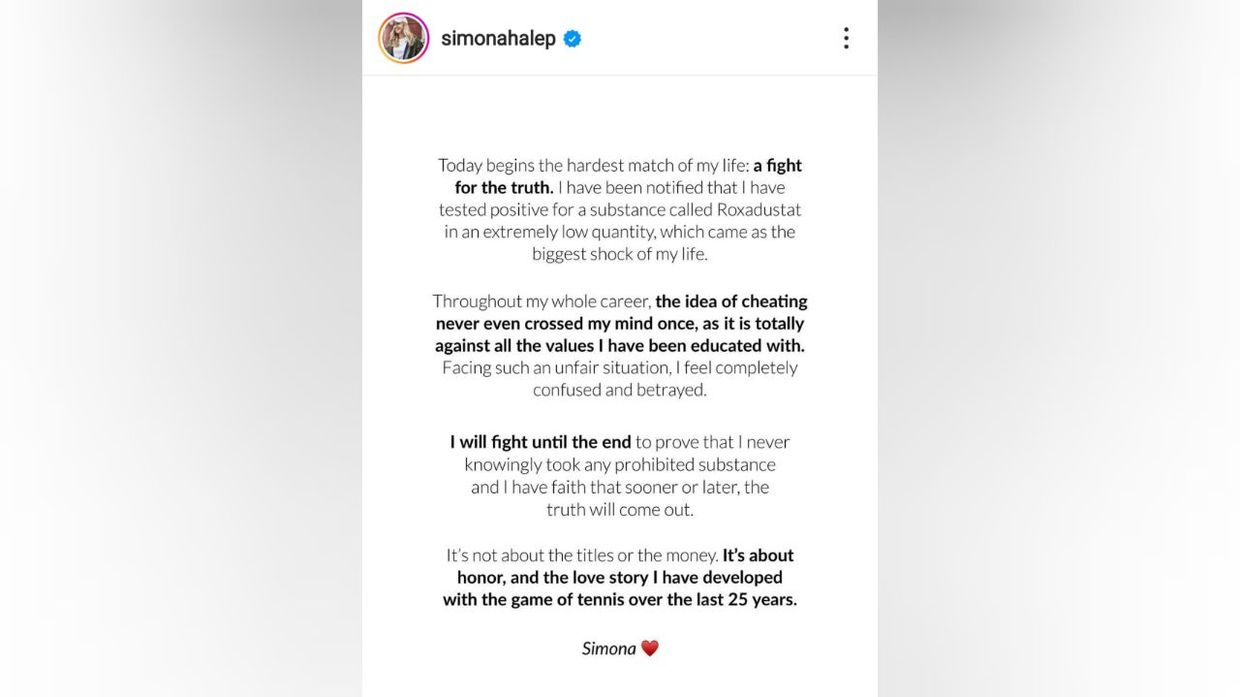 "Today begins the hardest match of my life: a fight for the truth," wrote Halep.
"I have been notified that I have tested positive for a substance called Roxadustat in an extremely low quantity, which came as the biggest shock of my life.
"Throughout my whole career, the idea of cheating never even crossed my mind once, as it is totally against all the values I have been educated with.
"Facing such an unfair situation, I feel completely confused and betrayed.
"I will fight until the end to prove that I never knowingly took any prohibited substance, and I have faith that sooner or later, the truth will come out."
The doping scandal is already being described as the biggest to hit women's tennis since Russian icon Maria Sharapova was banned for 15 months in 2016.
Sharapova was punished for taking meldonium after she and her team were unaware that it had been added to the list of banned substances by WADA.
You can share this story on social media: