Fury-Joshua megafight plans take another turn
Promoter Eddie Hearn claims Fury's silence has ended negotiations for the 'Battle of Britain' clash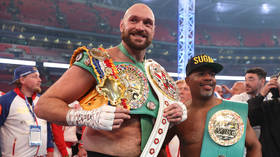 Plans for Tyson Fury to defend his WBC heavyweight title against Anthony Joshua this year have been shelved, according to Joshua's promoter Eddie Hearn.
Fury said he was coming out of a purported retirement for the second time this year after Joshua lost to WBA, IBF, WBO and IBO champion Aleksandr Usyk in August.
The Ukrainian relieved Joshua of the titles in London in September last year, and then beat him in a rematch in Saudi Arabia this summer.
With Usyk ruling himself out of an immediate fight against Fury which would crown the four-belt era's first-ever undisputed heavyweight champion due to a wish to spend time with his family, the 'Gypsy King' turned his focus towards Joshua.
Fury said he had the Principality Stadium in Cardiff booked for December 3 but accused Joshua's camp of holding up confirmation of the 'Battle of Britain' showdown by not signing a contract sent to them.
He gave Joshua a deadline of Monday last week to put pen to paper and then offered him more time on Thursday to agree to terms.
At the turn of this week, however, Joshua's promoter Hearn has revealed that Matchroom now considers the fight off because they have not heard back from Fury's team since he demanded they sign the required documents post haste.
"People surely aren't thick enough to [not] see that Tyson Fury has called two deadlines on this fight and the fight has passed in Tyson Fury's deadlines," Hearn said via Matchroom's YouTube channel.
"People talk about putting up barriers, we sent our final draft contract back to sign. They want to appoint their partner as an arbitrator, that sort of stuff doesn't work.
"We get another [deadline], Tyson Fury says, 'We're telling you now, the fight is off unless you sign [today]."
"We're more than happy to continue those conversations, but what we've been told is the deadline has passed.
"Don't blame Anthony Joshua for Tyson Fury pulling the plug twice on this fight," Hearn added.
Fury's US promoter and Top Rank chief Bob Arum has accused Hearn of trying to prevent the guaranteed box office smash from taking place to prolong Joshua's career.
"Eddie Hearn is stalling everything, because he doesn't want the fight to happen," Arum said to talkSPORT.
"And why doesn't he want the fight to happen? Because Joshua's lost three out of his last five fights and he figures to lose again if he fights Tyson Fury and so Eddie is in effect being an impediment.
"I don't know of any issues, he sends a draft and then Frank and George [Warren] reply and then we don't hear from Eddie for days, he's stalling until it dies of its own volition.
"I don't think Joshua is part of that. I think Joshua for whatever reason wants the fight to happen, I know Tyson Fury does. But, Eddie doesn't and so Eddie is doing whatever he can to prevent the fight from happening," Arum added.
Ahead of Hearn stating that the megafight was off, he reminded boxing fans that Arum said "no chance this fight happens" a fortnight ago.
"Now apparently there's no barriers and it's my fault. If you ask Bob what day it is, there's only a 50% chance he'd get it right," Hearn joked.
Promoting the Londoner as well, Hearn claims that Fury sent a contract for Derek Chisora to sign on Friday, which is a further indicator that Fury has given up on fighting Joshua.
You can share this story on social media: