Nations to boycott congress over Russian participation – media
Poland and Estonia will withdraw from the International Gymnastics Federation (FIG) Congress, according to reports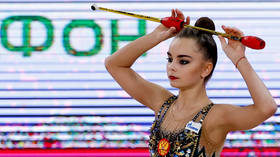 Poland and Estonia will not attend the International Gymnastics Federation (FIG) Congress in Istanbul next month because Russian and Belarusian officials will be there.
The FIG has banned all Russian and Belarusian athletes from its tournaments because of the conflict with Ukraine, although officials from the two countries are free to participate at meetings held by the organization.
According to Inside the Games, the FIG's stance has prompted Poland and Estonia to boycott the congress which is planned for Istanbul on November 11 and 12.
Officials from Norway and Ukraine have already said they will not be in attendance.
The FIG congress was initially due to be held in the city of Sandefjord, Norway, but was moved after the Norwegian Gymnastics Federation said it would not allow Russian and Belarusian officials to attend because of demands from the Norwegian sports authorities and politicians.
Türkiye subsequently stepped in to offer itself as host for what will be the second year running.
Explaining the decision to boycott the congress in a letter seen by Inside the Games, Polish Gymnastics Association (PZG) secretary general Piotr Dec claimed that his participation would be "inconsistent with the position of the Polish Ministry of Sport and Tourism."
Discussing his non-participation, Estonian Gymnastics Federation (EGF) president Peeter Tishler said that he supports the stance of the Norwegians after their boycott plans.
Russian Artistic Gymnastics Federation president Vasily Titov responded by saying the nations had every right to miss the event.
"I found out that Poland and Estonia will boycott. I don't want to pour oil on the flames, it is their right. I would at least point out that 130 federations are registered to participate [at the congress]," Titov told RIA Novosti.
Titov is an FIG Executive Committee member, while Nellie Kim of Belarus is one of three FIG vice-presidents.
You can share this story on social media: