FIFA president reacts to Indonesia stadium tragedy
At least 125 were crushed to death on Saturday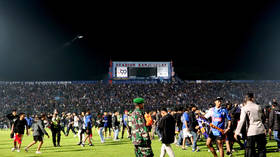 FIFA president Gianni Infantino has released a statement on the tragic stadium crush in Malang, Indonesia on Saturday night, which resulted in the deaths of at least 125 football fans.
The tragic incident occurred after police tear-gassed fans that invaded the pitch following home team Arema FC's 3-2 loss to bitter rivals Persebaya in Liga 1.
Panic spread around Kanjuruhan Stadium, which caused thousands to swarm towards the exits where many suffocated.
Reacting to a tragedy that he called "beyond comprehension," which also saw hundreds of spectators injured, Infantino said that the football world was "in a state of shock" on a "dark day for all involved" with the sport.
Infantino extended his deepest condolences to the families and friends of the victims and offered his thoughts and prayers to them, to those injured, and to the people of Indonesia.
Also receiving support were the Asian Football Confederation, Indonesian Football League and Indonesian Football Association, which has vowed to launch an investigation into the incident, which it said has "tarnished the face of Indonesian football."
Persebaya fans had been banned from buying tickets for the match due to fears of clashes. On Instagram, Chief Security Minister Mahfud MD posted that 42,000 tickets had been sold for the game at a stadium that has a capacity of 38,000.
Indonesian President Joko Widodo called for the tragedy to be the last "in the nation," and ordered the suspension of all Liga 1 games pending an investigation.
The death toll in Malang was quoted at as high as 174 but has since been revised to at least 125 fatalities.
Saturday's calamity takes its place on the list of the worst of all time at football matches alongside a 1964 stampede at a Peru versus Argentina Olympic qualifier in Lima that saw 320 people killed and 1,000 injured.
In 1985, 39 people died and 600 were left injured at the Heysel ground in Brussels, Belgium, when mostly Juventus fans were crushed against a wall that collapsed during their team's European Cup final against Liverpool.
The fall-out from the incident resulted in English club teams being banned from European competitions for six years.
Four years later, in 1989, 97 Liverpool fans were killed when they were crushed at Hillsborough in Sheffield in a FA Cup semifinal tie with Nottingham Forest.
You can share this story on social media: