Russia can harness BRICS sporting potential – diplomat
Russia will pursue new avenues amid attempts to isolate its athletes, according to Deputy Foreign Minister Sergey Vershinin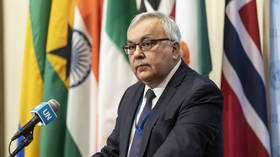 Russia will work more actively with partners such as China and India in developing sporting competitions in the face of Western attempts to isolate it, Deputy Foreign Minister Sergey Vershinin has said.
Russian athletes have been barred from competing at global events across a wide variety of sports following an International Olympic Committee (IOC) recommendation issued at the end of February.
"We all need to understand that high-level sport today is extremely politicized," Vershinin told journalists at the UN this week, as quoted by TASS.
"Sport should be outside of politics. We have something to show the world in terms of high-performance sport. But we understand that that our athletes need to realize [their potential].
"This realization is connected, among other things, with performances at major international events."
Vershinin vowed that Russia would continue to fight the "negative reality" of sporting bans and efforts from the West to isolate it.
"We need to understand the importance of domestic sports events. There are many of them," said the diplomat.
Vershinin noted that Russia had partners in the BRICS group of nations comprised of Brazil, Russia, India, China and South Africa, as well as in the CIS (Commonwealth of Independent States) and the SCO (Shanghai Cooperation Organization).
"Now we are working hard to use, among other things, the sports potential of such associations as BRICS, the CIS, the SCO," Vershinin said.
"The majority of the world's population lives in these regional unions, which are becoming more and more visible at the international level.
"The Ministry of Sports of the Russian Federation, with which we closely coordinate our interaction, is actively working with this circle of countries.
"We have serious international events, which, in my opinion, will become more and more popular. I am convinced that this is very important for athletes."
Russian Sports Minister Oleg Matytsin has similarly talked up the opportunities for increased cooperation with BRICS countries as a way for Russia to counterbalance the current sanctions.

In bilateral terms, Matytsin used a visit to India last month to promote ties, even offering assistance to India in the event that the country successfully bids for a future edition of the Olympic Games.
You can share this story on social media: