Furious Ukrainians demand $50 million from FIFA – media
Shakhtar Donetsk claim they have been deprived of millions in potential transfer fees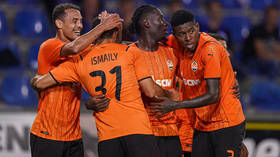 Ukrainian football giants Shakhtar Donetsk are seeking millions of euros in compensation from FIFA over a controversial ruling which allows foreign players to unilaterally suspend their contracts until the end of the 2022/23 season. Shakhtar have accused FIFA of "not caring" about their interests.
FIFA announced the extension of its policy last month, allowing foreign players and coaching staff to temporarily walk away from Russian and Ukrainian clubs without fear of punishment due to the ongoing military conflict if they could not find a mutual agreement by June 30.
The ruling "give[s] players and coaches the opportunity to train, play and receive a salary, while protecting Ukrainian clubs and facilitating the departure of foreign players and coaches from Russia," FIFA claimed at the time.
But the decision has drawn fury at Ukrainian top-tier team Shakhtar, who have won the national title in four of the past five seasons and traditionally boast a strong contingent of foreign stars – in particular from Brazil.
As revealed by The Athletic, Shakhtar claim they have missed out on fees for transfers as rival clubs have instead made use of the FIFA ruling to land their players for free.
In a filing with the Court of Arbitration for Sport (CAS) in Switzerland, Shakhtar are demanding €50 million ($51 million) in compensation.
"Everyone believes we are one football family. This decision just crossed out this slogan. We are not one football family because nobody cares about Ukrainian clubs. This is a very big pity. FIFA does not care about us," Shakhtar CEO Sergei Palkin told The Athletic.
"How was it possible to give me a week to close deals for our 14 foreign players?" added Palkin.
"It is a very ridiculous decision but when FIFA issued the decision, within two days, we lost direct deals worth a minimum of €26 million. They issued the decision and all the clubs said, 'Thank you very much, FIFA helps us, we take these players for free'."
FIFA had attempted to allay the concerns of Ukrainian clubs by amending its ruling so no deals covered by the policy could be announced before August 1, although Shakhtar claimed that this was of little use as rival clubs would simply wait slightly longer to swoop in on their players.
Palkin said there had been no consultation with the Ukrainian football authorities or clubs, asking: "How is it possible that FIFA, the body saying 'We are one football family', that they didn't even pay attention to us?"
Palkin added scathingly: "FIFA always talk about fair play and a fair game but I don't see here fair play or a fair game."
Shakhtar, who are regular participants in the UEFA Champions League, formerly played at their Donbass Arena home but were forced to leave the city when hostilities erupted in 2014. They have since played matches in Lvov and Kharkiv, and more recently in Kiev.
Russian football figures also reacted angrily to the FIFA ruling in June, saying it was discriminatory and made a mockery of contract agreements.
"The decision completely destroys the principles of contractual stability and the integrity of the competition. It is openly stated that now football players and coaches have the right not to respect contractual obligations…," read a joint statement from the Russian Football Union (RFU) and Russian Premier League.
"Football should not divide but unite people in every corner of the globe. The decision will cause irreparable damage to the football industry in Russia. We reserve the right to apply to the courts to protect our interests," it added.
The Ukrainian sports minister announced last week that the country's Premier League would begin in August, but that fans would not be allowed into stadiums to watch matches.
You can share this story on social media: