UEFA unveils new sanctions against Russia
Russian teams won't be able to compete in European competitions in the 2022/23 season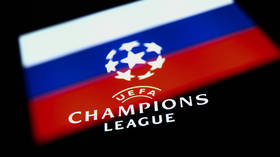 European football governing body UEFA has hit Russia and its national teams and clubs with a string of further punishments, as announced on Monday.
Russian teams and clubs were already prevented from competing in international competitions due to bans simultaneously imposed by UEFA and global counterpart FIFA as a response to the military operation in Ukraine.
Two months since that ruling, however, UEFA has confirmed that Russian clubs will not be allowed to compete in European competitions in the upcoming 2022/2023 season, while the men's national team has been removed from the UEFA Nations League and will be relegated at the end of the group phase.
As for the Russian women's national team, they will be replaced at this summer's Euro 2022 tournament in England by Portugal, who they defeated in a play-off to gain qualification.
Furthermore, the Russian Football Union's (RFU) bids to host the 2028 or 2032 edition of the men's European Championship have been dismissed.
Other measures taken by UEFA include the women's national team being removed from their qualifying group for the 2023 Women's World Cup in Australia and New Zealand, and the men's U-21 team being removed from their qualifying group for the European Under 21 Championship in Romania and Georgia also next year.
In futsal, the men's team will be replaced in the Main Round group phase draw by Norway and the women's team will be expelled from the 2022/23 UEFA Women's Futsal Euro competition where they had been drawn into Group 4.
Lastly, Russia's youth teams are also greatly affected by being expelled from the men's and women's Under-17 and Under-19 Youth League competitions as are amateur outfits from the Regions Cup.
Russia had been braced for today's announcement based on media reports but is still waiting to hear from the Court of Arbitration of Sport (CAS) on its decision regarding the RFU's final appeal against UEFA's original ban.
To TASS after the latest announcements, a source at the CAS said that arbitration procedures are still "ongoing".
"The parties are exchanging written submissions, [and] arbitral tribunals are being appointed. After the composition of the commission is approved, it will be determined whether a hearing should be held, and if so, when."
The source said that it is "currently impossible" to say when the final decision will be made and revealed.
You can share this story on social media: