Football super agent Raiola 'in serious condition' but reports of death 'untrue'
Figures close to Raiola have said he is alive but 'in serious condition'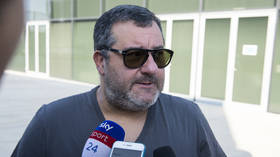 One of football's most well-known power brokers, Mino Raiola, is in 'critical condition' but contrary to reports has not succumbed to a serious illness.
It was claimed on Thursday that Raiola had passed away at the age of 54 after a battle with an unspecified illness, although those reports have now been denied by figures close to Raiola.
Alberto Zangrillo, a doctor at the intensive care unit of San Raffaele hospital in Milan, said: "I am outraged by the phone calls from pseudo journalists who speculate on the life of a man who is fighting."
Raiola's associate Jose Fortes Rodriguez told NOS in Holland: "He is in a bad position, but he hasn't died."
Current health status for the ones wondering: pissed off second time in 4 months they kill me. Seem also able to ressuscitate.

— Mino Raiola (@MinoRaiola) April 28, 2022
A tweet posted to Raiola's official account appeared to confirm that speculation of his death was off the mark.
"Current health status for the ones wondering: pissed off second time in 4 months they kill me. Seem also able to resuscitate."
Raiola's supposed passing had been widely reported by numerous Italian outlets, as well as football reporter Tancredi Palmeri, who has subsequently retracted the tweet and announced a week-long self-imposed suspension from the social media platform.
Therefore I have decided to suspend myself from Twitter for next week.Again: I wasn't the one to break it about Raiola.'Institutional' tweets about works will still come due to working commitments.But I won't tweet anything from my voice for next week

— Tancredi Palmeri (@tancredipalmeri) April 28, 2022
"I deleted tweet about Raiola," he wrote. "It wasn't speculation or 'run to be first'. I'd never do any like this on such matter. News was broke by TgLa7, most rated Italian tv news; confirmed by all Italian biggest media. But I did tweet wrong too, therefore I am mortified and apologise."
Palmeri also indicated that he had received a note from Raiola's doctor, saying: "Mino is in extremely critical conditions. He is fighting."
Raiola had reportedly been admitted to hospital in January for surgery related to an unspecified illness.
He is considered to be one of football's most prominent power brokers and has negotiated some of the biggest transfers in the sport's history, such as Paul Pogba's record-breaking move from Juventus to Manchester United in 2016.
Raiola also represents Norwegian star Erling Haaland, who is expected to complete a big money move away from Borussia Dortmund this summer - but it remains unclear to what extent, if any, Raiola might have on the move due to his illness.
You can share this story on social media: