Chimaev and Burns thrill in instant UFC classic (VIDEO)
The UFC duo impressed celebrities, fans and fellow fighters on social media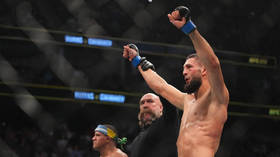 Welterweight contenders Khamzat Chimaev and Gilbert Burns were the highlight of the card at UFC 273 headlined by two title bouts, with their clash dubbed an instant classic and deservedly winning the Fight of the Night bonus.
Number two ranked welterweight Burns was commended for his willingness to entertain the division's hottest prospect in number eleven-ranked Chimaev, and he gave the Sweden-based Chechen his toughest fight yet before Chimaev won a unanimous decision 29-28, 29-28, 29-28.
The bout marked the first time that Chimaev, now 11-0, had been beyond the second round. In the first, he hurt Burns with a huge right hand but the Brazilian responded through a mix of calf kicks and counterpunching. Chimaev then clinched the first by delivering a front kick and jab that dropped his foe who began bleeding from his head.
In the second, Burns stood strong and floored Chimaev with a left hook which triggered a back-and-forth brawl as Chimaev landed a slick combination on Burns but had his nose bloodied by 'Durinho'.
Burns dropped Chimaev for the second time to close Round 2, as Round 3 saw two exhausted men continue to exchange blows. Though Chimaev looked close to finishing the 35-year-old, Burns landed a pair of big rights and held on until the death.
The VyStar Veterans Memorial Arena immediately leaped to its feet at the final buzzer to show their appreciation for the two gladiators, with fellow fighters, celebrities and fans singing their prizes online.
"Holy sh*t. What a fight!!!" beamed Dwayne Johnson on Twitter.
"Respect! Great fight!" said two-time lightweight title challenger Dustin Poirier, as Stephen 'Wonderboy' Thompson remarked: "Wow! What a fight," adding that he thought Chimaev had clinched the fight with his third round display.
After bigging up the showdown and demanding another two rounds, former two-weight champion Henry Cejudo asked: "Can we all agree to never sleep on Gilbert Burns again?!?! What a warrior!"
"I go against the odds, I don't care. I will fight anyone, it doesn't matter," Burns remarked later. "My goal is to become the champion and I have to fight the toughest guys. Every time I am in here, I am going to give everything that I have. They are going to have to f***ing kill me. I won't stop."
After previously ridiculing his opponent for being small following a chance hotel encounter in Jacksonville leading up to fight night, and also for crying after his 2021 title challenge loss to Kamaru Usman, Chimaev heaped praise on Burns.
"[He's] a f***ing tough guy, I didn't know he was so tough," Chimaev admitted. "The guy comes up with Brazilian heart. Thank you for this fight, Gilbert. I love you, brother, all respect. This is just what I do for work to make money.
"He did three rounds strong. I f***ing worked hard for everything. I never stop my training if I'm not injured but that guy was f***ing good today," Chimaev went on.
"I am happy. This stage is what I have been waiting for a long time," Chimaev also said. "I wanted to be 11-0 with 11 finishes. But I love this stage."
Offering a rare glimpse of his human side, Chimaev was later seen checking up on Burns laid out on a stretcher, and admitted at the post-event press conference to being uncomfortable with fighting Burns after his kids approached him.
"Sh*t. F*ck. I don't need that sh*t. I don't want to fight with some daddy," Chimaev joked.
While fielding questions, Chimaev, who also took home $30,000 in Bitcoin as part of the UFC's first-ever Fan Bonus of the Night award, showed a willingness to take on number one ranked contender Colby Covington next.
"I will fight everybody – of course, if [he] doesn't call the cops," Chimaev said to MMA Junkie, in reference to Covington pressing charges against Jorge Masvidal for a sucker punch outside a Miami restaurant.
"If Dana White doesn't go to jail, I'll be happy to fight, come to the fight, and smash his face. … Of course [I'll finish him]," Chimaev vowed.
For 'Borz', however, there is no rush to get straight back into the octagon, even for a man who holds the record for the least time between bouts of just 10 days.
"I don't know," Chimaev said. "When I come back, I come back. We go back home to Sweden and get some recovery. Then, [we] train harder and my team can talk about that. … I have more motivation now, because I didn't finish that guy. I want to finish everybody," he concluded.
UFC president White complimented Chimaev after first calling the Fight of the Year contender "one of the best" bouts he has ever seen.
"It's one of the coolest fights I've ever been to," White said, before promising to pay Burns his win bonus despite losing.
"Think about this," White began, when moving on to focus solely on Chimaev. "When was the last time you saw a guy come out of nowhere – nobody knows who he is, comes out of nowhere – then fights the number two-ranked guy in the world and wins?" he asked.
"When you get into the top-5 in the UFC, it's no joke man, and especially in that [welterweight] division. That division is straight killers. Tonight was a big test for him and he passed."
"You can't train in the gym for what happened tonight," White stressed. "I'm sure this week he had a lot of pressure on him, a lot of anxiety. Who knows how well he slept last night?"
"I'm sure there was a huge adrenaline dump after that first round," White posed. "This is s*** you can't train for. You either make it through or you don't. He made it through with flying colors."
"He's human," White pointed out. "Any a****** [that doubted him] doesn't think the kid's human. He's a human being, and he just beat the number two welterweight in the world in the UFC, with a couple of fights in the UFC. If you don't think he's the real deal, you're out of your mind."
You can share this story on social media: