Yan claims he was robbed in close UFC title fight (VIDEO)
The Russian lost his rematch to Aljamain Sterling by split decision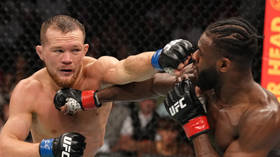 Ex-UFC bantamweight champion Petr Yan cried robbery following his close split decision title match loss to Aljamain Sterling at UFC 273 in Jacksonville on Saturday, with the elite MMA promotion's president Dana White thinking the Russian had done enough to win.
Yan met his bitter rival for the second time some 13 months after their first meeting saw Yan stripped of the 135lbs strap for dropping an illegal knee on a grounded Sterling.
But after slumping to 16-3 after two judges had it 48-47 for Sterling, with just one awarding the fight to Yan by the same score, Yan voiced his disapproval with the result through a translator in his post-fight octagon interview.
"I think I won this fight and I got robbed," Yan protested, also claiming that he won the first and seconds rounds, and at least four or five in total.
Following numerous delays due to Sterling's neck surgery, bitter back and forths on Twitter, and threats from Yan to kill the Jamaican-American and his team on sight in the fighter's hotel, the pair finally clashed once more for what was Sterling's first defense of the championship.
Unsurprisingly, the two men decided not to touch gloves before the bout. And while Yan took the first round in the eyes of many with cool and composed kickboxing nous, Sterling dominated the second and third with an impressive ground game.
Out of nowhere, Sterling managed to take Yan down early in the second round and take the Russian's back, but failed to pull off a rear-naked choke submission.
The third round followed a similar script, yet Sterling still won those combined 10 minutes of action comfortably by controlling the action.
Scolded by his corner, Yan woke up and began demonstrating better takedown defence with Sterling only managing two of his 22 takedown attempts according to official stats.
Given Yan's defensive wrestling and striking success, the fourth and fifth rounds were handed to Yan on many fan and pundits' official scorecards with only the first round perhaps debatable.
Still Sterling was awarded the controversial decision and slumped to his knees wrapped in the Jamaican flag when the Bruce Buffer read out the cards.
"I had a tough-a** opponent in Petr Yan," Sterling remarked to Joe Rogan once he was back on his feet. "He's dangerous and he brings out the best in me.
"He beat my ass the first fight," Sterling confessed. "This is for the haters who keep writing me off."
But it was not the convincing win that Sterling had predicted for himself and which he thought would get detractors off his back.
After many inside the VyStar Veterans Memorial Arena had booed the victor, who successfully defended his title for the first time and called out TJ Dillashaw in the crowd, UFC president Dana White also admitted during the post-event news conference that he thought Yan had won.
"I thought the judges blew that one," White confessed. "I had it 3-2 the other way. ... I guess it's all in how you scored that first round."
Around the internet, there were plenty of memes and tweets also suggesting that Yan had been "robbed" and "mugged" by a New Yorker.
"Just because Petr Yan is from Russia they screwed him," said another fan.
White talked down the prospect of Yan and Sterling immediately running it back for a third time but said "that fight will be there".
"Petr Yan is one of the baddest dudes in that division, [but] you probably do the T.J. fight [next]," White added.
Leading figures such as heavyweight champion Francis Ngannou have tipped Yan to dust himself off and return to the big picture. "Petr Yan is a beast!" Ngannou tweeted. "He'll definitely be back in the title conversation SOON/ NEXT".
You can share this story on social media: