Khabib backs UFC icon after attempted murder arrest
Khabib Nurmagomedov has thrown his support behind Cain Velasquez after the ex-UFC champ was arrested for attempted murder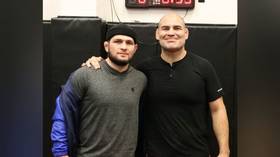 UFC star Khabib Nurmagomedov has issued a message of support for former heavyweight champion Cain Velasquez after he was charged with attempted murder this week in California.
Velasquez, 39, was detained by authorities after shooting a gun at a car containing a man who had himself been arrested for allegedly molesting an underage relative of the retired MMA star.
It is thought that that Velasquez hit the stepfather of the intended target of the shooting, with the man in question expected to survive his injuries.
It was confirmed late on Wednesday that Velasquez is facing five charges in addition to attempted murder, including shooting at a motor vehicle or aircraft, three counts of assault with a firearm, three counts of assault with a deadly weapon, willfully discharging a firearm from a vehicle and carrying a loaded firearm with intent to commit a felony.
If Velasquez is found guilty of attempted murder he faces a minimum term of 20 years in prison. The sentence could be extended further if he is found guilty on the other charges.
Police also confirmed that Harry Goularte, 43, had been charged with the molestation of a "close relative" of Velasquez. His mother had been employed by Velasquez for two years as a daycare worker.
"The sad tragedy is that Mr. Velasquez chose to take the law into his own hands, endangering the public and everyone in the truck," Jeff Rosen, the Santa Clara County District Attorney, said.
"This act of violence also causes more pain and suffering to his family."
News of Velasquez's arrest has sent shockwaves through the mixed martial arts world – and particularly so at the American Kickboxing Academy gym where Velasquez trained alongside the likes of Khabib Nurmagomedov, Daniel Cormier and Luke Rockhold – with UFC icon Khabib issuing a stirring message of support on social media for his friend and training partner.
"You are the man Cain," the Russian star wrote online.
"We love you and we always stay with you."
Velasquez retired from MMA in late 2019, several months after losing what proved to be his final fight against Francis Ngannou.
He was a two-time UFC heavyweight champion and defeated the likes of Brock Lesnar, Junior Dos Santos and Antonio Rogerio Nogueira throughout his 13-year professional career.
After he stepped away from MMA he briefly pursued a career in professional wrestling and made appearances for various Mexican promotions as well as the WWE.
You can share this story on social media: