Ex-UFC champ 'shot at man who was charged with molesting relative' – report
Former UFC champion Cain Velasquez allegedly shot at a man who was charged with molesting a close relative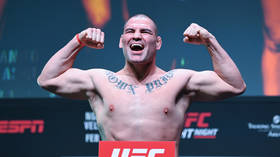 Further details have emerged following the arrest of ex-UFC heavyweight champion Cain Velasquez, 39, which claim that the mixed martial arts fighter was detained by police for allegedly shooting at a man who was charged with the molestation of a close relative, who is a minor.
Reports emerged on Tuesday that Velasquez, a two-time former UFC champ, had been arrested in California on attempted murder charges – with court documents indicating that Velasquez shot the stepfather of a man charged with the molestation.
The documents detail an alleged incident which began last week after a relative of Velasquez reported having been assaulted at a daycare facility in San Martin in California, according to Mercury News.
The accused man, named as the 43-year-old Harry Eugene Goularte, is understood to live at a residence that hosts a daycare facility run by his mother and is charged with 'one felony count of a lewd and lascivious act with a child under the age of 14'.
On Monday at approximately 3:15pm local time, Velasquez is understood to have shot at a car containing Goularte, his stepfather and one other passenger, striking the stepfather who is expected to survive his injuries.
Local police have not yet released further details about the shooting, beyond identifying Velasquez as the suspect.
Velasquez, who trains at the American Kickboxing Academy gym in San Jose, California which has also produced fellow UFC champions Daniel Cormier, Luke Rockhold and Khabib Nurmagomedov, hasn't competed in the cage since a February 2019 defeat to Francis Ngannou, and news of his arrest has sent shockwaves through the respected MMA facility.
"I just couldn't believe it – I still can't believe it. Still can't believe anything," said Giovanni Amador Rosales, who added that Velasquez has been training in the gym last week.
"He's taught me so much about wrestling that I've never known before," Amador Rosales continued. "He's taught me discipline in it as well. He's taught me the most amazing little tweaks that have just improved my wrestling game so much.
"We're all fighters, and I know that what you see on television is us beating people up. But we're humble … and Cain Velasquez has always been a humble guy, in defeat and victory. I've never seen him once in my entire life here ever throw a fit ever once – not once a tantrum, nothing. He's not an angry guy at all."
You can share this story on social media: