Russian teams erased from EA Sports video games
The video game manufacturer is removing Russian teams in line with real-life sporting sanctions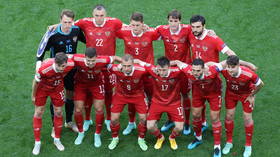 Video game giant EA Sports has removed Russian teams from its popular FIFA video game series, the company has confirmed.
The International Olympic Committee (IOC) recommended a ban on all Russian athletes from international sporting events earlier this week in light of the conflict in Ukraine.
Football governing bodies FIFA and UEFA are among the organizations to follow the IOC's calls, and Russia's sporting exclusion has now been extended to video games.
EA Sports announced it would removing all Russian teams from its popular FIFA games, as communicated in a statement on Wednesday.
"EA Sports stands in solidarity with the Ukrainian people and like so many voices across the world of football, calls for peace and an end to the invasion of Ukraine," the statement began.
"In line with our partners at FIFA and UEFA, EA Sports has initiated processes to remove the Russian national team and all Russian clubs from EA Sports FIFA products including: FIFA 22, FIFA Mobile and FIFA Online.
"We're also actively evaluating related changes to other areas of our games," it added. "We will keep our communities up to date on any actions taken, and thank players for their patience as we work through these updates," EA Sports FIFA concluded.
Elsewhere, EA Sports NHL announced it would mimic the International Ice Hockey Federation's (IIHF) suspension of Russian and Belarusian national and club teams in their competitions by removing them from NHL 22 "within the coming weeks".
You can share this story on social media: