'I'm proud to be Russian,' says football star after being targeted by Ukraine players
Artem Dzyuba said he is against discrimination as he answered Ukraine star Vitaliy Mykolenko's online callout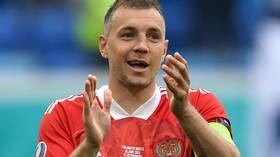 Russian football star Artem Dzuyba has broken his silence on the ongoing conflict in Ukraine which has led to an unprecedented ban on athletes from his homeland, after he was accused of failing to comment on the situation by Everton's Ukrainian star Vitaliy Mykolenko.
Mykolenko, who joined the Premier League side from Dynamo Kiev in the January transfer window, slammed Dzyuba online for failing to speak out against the Russian offensive, claiming that sanctions imposed on Russia will lead to him being "locked in your dungeon for the rest of your life".
"Whilst you remain silent b**** along with your s***head football team-mates, peaceful civilians are being killed in Ukraine," wrote Mykolenko online, addressing Dzyuba.
"You will be locked in your dungeon for the rest of your life and most importantly the lives of your kids. And I'm glad."
Russia had been suspended indefinitely by both UEFA and FIFA in the hours before Mykolenko's statement.
Elsewhere, fellow Ukrainian star Andriy Yarmolenko, who plays at Premier League club West Ham, made reference to a sex tape episode as he told Dzyuba to "show off your balls" by speaking out against the conflict.
However, in his own statement Dzyuba explained that he was hesitant to speak out until now because he was "not an expert in politics" – but cited the "double standards" in the treatment of Russian athletes.
"Up until now, I didn't want to speak on the theme of the events in Ukraine," the 33-year-old Zenit St. Petersburg star wrote.
"I didn't want to not because I was afraid, but because I'm not an expert on politics, I've never been involved in it and I'm not planning to (unlike the large number of political scientists and virologists who have recently appeared on the internet).
"But I, like every other person, have my opinion. Seeing as all sides are pulling me to this topic, I'll express it.
"War is scary. But I'm also against human aggression and hate which acquires greater proportions every day.
"I am against discrimination based on nationality. I'm not ashamed that I'm Russian. I'm proud to be Russian. And I don't understand why athletes should suffer now.
"I'm against double standards. Why can some people do anything, but we get blamed for everything? Why is everyone always shouting about sports outside of politics, but at the first opportunity, when it comes to Russia, this principle is completely forgotten?
"I repeat, war is scary. In stressful situations, people show their essence, sometimes negative. How much anger, dirt and bile has now poured out on all Russian people, regardless of their position and profession. Those thousands of people who write insults and threats – get in line!
"It is doubly strange to hear all this from people to whom Russia has given very, very much in their lives. All this only creates more negativity.
"The war will end, but human relations will remain. And it will be impossible to rewind. Remember this.
"P.S. And to some colleagues who sit on their backsides in mansions in England and say nasty things: this cannot offend us, we understand everything! Peace and kindness to all!"
The comments from former Russia captain Dzyuba come just hours after it was confirmed by his club, Zenit St. Petersburg, that they are canceling the contract of their Ukrainian defender Yaroslav Rakitskiy by mutual consent after he expressed a desire to leave in the wake of the Ukraine conflict.
Russian began its military campaign last week after formally recognizing the Donbass republics. President Vladimir Putin has said the operation is aimed at defending the local populations of the regions as well as "demilitarizing" and "de-Nazifying" Ukraine.
You can share this story on social media: