Russian F1 star Mazepin learns if he can compete
Motorsport bosses have issued a decision on Russian and Belarusian drivers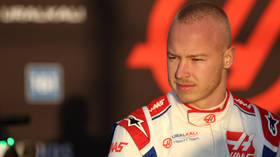 F1 driver Nikita Mazepin will be able to compete after motor racing governing body the FIA resisted calls to ban all Russian and Belarusian drivers, instead ruling that they can continue to race but only under neutral status.
Pressure has been placed on federations across all sports after the International Olympic Committee (IOC) recommended that Russian and Belarusian athletes not be invited to global competitions wherever possible.
That has led to a swathe of sanctions and bans being slapped on sportspeople and officials from the two countries, but officials at the FIA – which is the governing body of Formula 1 – went against the grain in announcing its own measures on Tuesday.
Instead, Russian and Belarusian drivers will compete under an FIA flag.
Sanctions mean that no Russian and Belarusian flags or symbols will be displayed at FIA events, with the nations' anthems also being banned.
F1 has one Russian racer, Mazepin, who drives for Haas. The team is sponsored by the Russian chemical company Uralkali, which is owned by Mazepin's billionaire father. The team has already removed the colors of the Russian tricolor from its livery this season.
Mazepin issued a message last week saying it was a "difficult" time but that he was choosing to focus on doing his best for his team ahead of the new season, which kicks off in Bahrain on March 20.
To my fans and followers - it's a difficult time and I am not in control over a lot of what is being said and done. I'm choosing to focus on what I CAN control by working hard and doing my best for my @HaasF1Team . My deepest thanks for your understanding and support. 🙏

— Nikita Mazepin (@nikita_mazepin) February 25, 2022
Despite clearing Mazepin and his compatriots to race, the FIA has banned Russia and Belarus from holding events under its auspices.
Officials had already announced last week that it would be "impossible" to hold the Russian Grand Prix scheduled for Sochi in September "in the current circumstances."
In his statement, FIAPresident Mohammed Ben Sulayem said he is "watching the developments in Ukraine with sadness and shock and I hope for a swift and peaceful resolution to the present situation.
"We condemn the Russian invasion of Ukraine and our thoughts are with all those suffering as a result of the events in Ukraine," he added.
Automobile Federation of Ukraine president Leonid Kostyuchenko had demanded a full ban on Russian and Belarusian drivers in light of the military offensive launched by Moscow last week.
Sulayem has resisted those calls, but said the FIA was "in solidarity" with Kostyuchenko and "the wider FIA family in [Ukraine]."
On Tuesday, Russian former F1 driver Daniil Kvyat issued a call for peace but questioned the recommendations from the IOC for blanket bans on all Russian athletes.
"Disallowing Russian athletes and teams from participating in world competitions is an unfair solution and goes against what sports teaches us in its principle – unity and peace," Kvyat said in a social media message.
You can share this story on social media: