F1 bosses say 'impossible' to hold Russian Grand Prix
Formula 1 officials issued an announcement on the Sochi Grand Prix, which was planned for September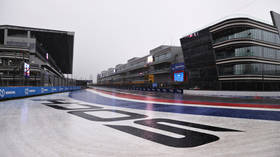 Formula 1 officials have announced that it is "impossible" to hold the Russian Grand Prix scheduled for the resort city of Sochi in September "in the current circumstances."
Motor sports bosses announced their position in a statement on Friday, after coming under increasing pressure to state if the event would take place later this year in light of the conflict between Russia and Ukraine.
"The FIA Formula 1 World Championship visits countries all over the world with a positive vision to unite people, bringing nations together," read an F1 statement.
"We are watching the events in Ukraine with sadness and shock and hope for a peaceful and swift resolution to the situation.
"On Thursday evening, Formula 1, the FIA and the teams discussed the position of our sport, and the conclusion is, including the view of all the relevant stakeholders, that it is impossible to hold the Russian Grand Prix in the current circumstances," it added.
The decision comes amid the escalating military confrontation between Russia and Ukraine.
Russian President Vladimir Putin has ordered a special operation in Ukraine and the newly-recognized republics of Donetsk and Lugansk to protect the local population and, as he put it, "demilitarize" and "de-Nazify" Ukraine.
Ukraine and its Western allies have condemned the move.
The conflict has spilled over into sport. Earlier on Friday, European football governing body UEFA announced that the Champions League final scheduled for St. Petersburg in May would be moved to Paris.
Earlier this week, F1 bosses had said they were "closely watching" events, while former world champion Sebastian Vettel was among those to say he would refuse to race in Russia.
Given the nature of the statement on Friday, it remains to be seen if the status of the Grand Prix changes in line with broader military or political events.
In a statement to Match TV, Russian company 'Rosgonki' – which is the official F1 promoter in the country – suggested that the Grand Prix had not definitely been canceled but that the contract had been suspended due to a "force majeure."
"Tickets are not canceled – there is no need to return them now, since there is still a chance that the stage will take place and will take place as scheduled," it said.
This year's race was due to be the last in Sochi before the Russian Grand Prix moves to a new home at the Igora Drive racetrack just north of St. Petersburg in 2023.
Sochi was added to the F1 calendar in 2014, with the course winding its way through the Olympic Park.
Elsewhere in F1, racing team Haas removed Russian tricolor livery from its cars in the wake of the escalation of tensions between Russia and Ukraine.
Haas is sponsored by Russian company Uralkali, and has a Russian driver, Nikita Mazepin.
You can share this story on social media: