UEFA officially strips Russia of Champions League final
The step was taken after an emergency UEFA meeting on Friday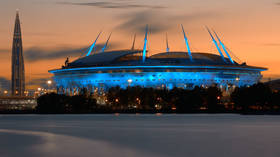 The 2022 Champions League final will no longer take place in the Russian city of St. Petersburg, organizers UEFA have announced.
The move comes amid the ongoing conflict between Russia and Ukraine.
The May 28 football showpiece will instead be held at the Stade de France in Paris.
In a statement, UEFA thanked French President Emmanuel Macron for his "personal support" in facilitating the switch at "a time of unparalleled crisis."
"Together with the French government, UEFA will fully support multi-stakeholder efforts to ensure the provision of rescue for football players and their families in Ukraine who face dire human suffering, destruction and displacement," it added.
The 2021/22 #UCLfinal will move from Saint Petersburg to Stade de France in Saint-Denis. The game will be played as initially scheduled on Saturday 28 May at 21:00 CET.Full statement ⬇️

— UEFA Champions League (@ChampionsLeague) February 25, 2022
Russian and Ukrainian clubs and national teams will be required to play home games on neutral soil until UEFA rules otherwise.
The decision could include Russia's World Cup qualifying play-off semifinal at home to Poland on March 24, as well as a potentially crucial final five days later should Valeri Karpin's side win.
Victory over Poland would see Russia scheduled to host Sweden or the Czech Republic, although those two nations joined Poland in petitioning FIFA and UEFA to switch any games to a neutral venue because of safety fears.
UEFA said it was on standby to hold extraordinary meetings and make further decisions based on an ongoing assessment of the "legal and factual situation".
The relocation of the Champions League marks the third successive year that the marquee event on the European club football calendar has been shifted from its original venue.
The 2020 and 2021 finals were both relocated from Turkey to Portugal because of Covid pandemic restrictions.
UK Prime Minister Boris Johnson and his Foreign Secretary, Liz Truss, were among the leaders to call for the final to be moved before UEFA announced its decision.
Speaking in the House of Commons on Tuesday, Johnson suggested that Russia had "no chance of holding football tournaments" following its initial operation in Donbass.
"I think it is inconceivable that major international football tournaments can take place in Russia," he added.
You can share this story on social media: