Russian athletes 'allowed' at Paralympics despite Russia's breach of 'Olympic truce'
Russian athletes will compete at the Paralympics in Beijing despite the IOC's condemnation of the military operation in Ukraine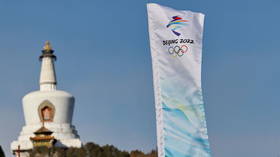 Russian Paralympic athletes will compete at next month's Paralympic Games in Beijing despite the International Olympic Committee's (IOC) condemnation of the ongoing special military operation in Ukraine.
The Russian Olympic Committee (ROC) has arranged for a team of 71 competitors to travel to the Chinese capital for the event which begins on March 4 – and after talks between representatives of Ukraine and Russia, the International Paralympic Committee (IPC) appears to have resisted calls in some quarters for ROC athletes to be banned from the competition.
"The IPC is in dialogue with both the Ukrainian and Russian Paralympic Committees ahead of the Beijing 2022 Paralympic Winter Games," the IPC revealed in a statement.
"As a politically neutral organisation, the IPC's focus remains on the upcoming Games rather than the ongoing situation.
"The Olympic Truce demonstrates the relevance of the Olympic and Paralympic Games to bring the world together in peaceful competition, providing hope for a better future."
The IPC's comments come after the IOC issued a rebuke of Russia's military operation in Ukraine, saying that it has breached the 'Olympic truce', something described by the UN as the "longest lasting peace accord in history."
The truce is intended to be observed for seven days before the start of the Games until seven days after its conclusion on March 21.
"The IOC strongly condemns the breach of the Olympic Truce by the Russian government," it said in a statement.
"IOC president Thomas Bach reiterates his call for peace, which he expressed in his speeches at the opening ceremony and the closing ceremony of the Olympic Games.
"The IOC is deeply concerned about the safety of the Olympic community in Ukraine.
"It has established a task force to closely monitor the situation and to co-ordinate humanitarian assistance to members of the Olympic community in Ukraine where possible."
The Paralympics is set to come hot on the heels of the recently-concluded Winter Olympics in which Russian athletes, again competing under the ROC banner, finished second in the overall medals table with 32 – five behind the total won by Norway.
You can share this story on social media: