Who is the coach at the center of Kamila Valieva's Olympic storm?
Kamila Valieva's ordeal at the Beijing Olympics has brought added attention to a prominent Russian figure skating coach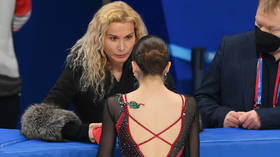 Teenage figure skater Kamila Valieva has faced intense scrutiny at the Beijing Olympics, but the media has also been drawn to coach Eteri Tutberidze – someone who would otherwise have been a much less prominent presence.
Tutberidze is a renowned trainer of Olympic champions, a coach whose conveyor belt of talent has functioned relentlessly in recent years.
But as Tutberidze now faces questions over her methods in light of Valieva's unfortunate situation, we look at some of the key facts surrounding the 47-year-old.
You can share this story on social media: