What we know about Valieva's doping case
The Russian figure skating sensation is at the center of an Olympic storm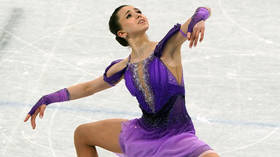 Russian figure skating prodigy and Winter Olympics singles gold medalist favorite Kamila Valieva has tested positive for a banned drug.
The International Olympic Committee (IOC) initially postponed the medal ceremony for the team figure skating event on Tuesday over unspecified legal issues. Now the International Testing Agency (ITA) has revealed that the case concerns a test taken before the Games by Valieva.
Will Valieva be able to compete in the rest of the Games? What will happen to the medals due to be awarded for the team competition? Those are among the questions in this complex case – here's the latest on what we know.
You can share this story on social media: