UFC fighter jumps into Rogan's arms after quitting stripping for MMA (VIDEO)
The promotion newcomer known for doing the splits says she quit exotic dancing to concentrate on her camp for the fight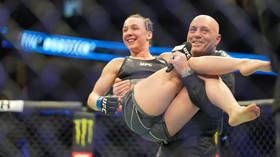 In only her second UFC bout, the charismatic 'Lil Monster' faced a second straight loss when Juarez almost knocked her out, with the eventual victor admitting that she had been asleep at one point and could not remember parts of her rapid victory.
Even if she needs a replay to remind her, the record will show that Demopoulos scored an armbar submission to send her into raptures – and Joe Rogan's arms.
The podcast sensation and familiar octagon announcer had entered the UFC 270 stage in California for his customary chat with the fighters when he encountered a winner unable to contain her enthusiasm.
Demopoulos had performed the splits before celebrating with the mildly bemused-looking Rogan – an elastic-limbed trick she also performed at the weigh-ins.
"That's my stripper guard, right there," thrilled Demopoulos explained when she was asked about the move.
"I don't think it's a secret that I was an exotic entertainer for 13 years. I walked away from being a stripper to continue this camp.
"I quit dancing about six-to-eight weeks ago just so I could focus full-time on MMA, take this extremely seriously in the gym every single day.
"That's where that background comes from and that's where those splits come from. A lot of my Jiu-Jitsu actually comes from my expertise as a pole-dancer."
The strawweight has filmed herself performing acrobatic moves on a punchbag in her gym.
"I dreamt of this," she told her Instagram following of more than 58,000 in 2021, speaking about her long path to joining the UFC as a rising prospect.
"I worked for this. I wanted this every day. Now I have it. You better f*cking believe I'm going to take care of this.
"I'm going to treat this like the thing I love. Give it the attention it deserves. Respect that it is not automatically here – that it will only stay if I care for it enough to stay.
"I love being here. My work is something I value like how I value people in my life. We give time to things we care for. This is where I want to spend my time."
Demopoulos was fighting on the undercard of Francis Ngannou's heavyweight showdown with Ciryl Gane.
Ngannou saw off the challenge of the previously unbeaten Gane in the headline act, scoring a unanimous points victory.
You can share this story on social media: