Serbian president reacts to Djokovic deportation decision
The head of state has accused Australia of a 'witch hunt' against 'the whole country'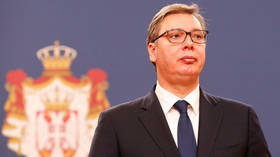 Aleksandar Vucic has responded to the decision by the administration of Australian prime minister Scott Morrison to deport Novak Djokovic after the tennis superstar's visa was canceled because he has not had a Covid vaccine.
Serbian leader Vucic has repeated his claim that Australia has carried out a "witch hunt" against Djokovic after the world number one had his visa revocation confirmed in a court ruling on Sunday which ended his appeal to stay in the country.
Morrison insisted that there was no broader agenda after Djokovic was initially detained last week following his arrival in Australia ahead of his potential defense of his Australian Open title.
The top seed will now not be able to pursue a fourth successive title in Melbourne, describing himself as "extremely disappointed" after a court withheld Australian immigration minister Alex Hawke's decision to expel him because he has not taken a Covid vaccine.
"Those who think that they have [shown] some principles have shown that they have no principles," Vucic said via Blic, arguing that Djokovic had been misled over his understanding that he would be granted a medical exemption to play in the tournament unvaccinated because he tested positive for the virus in December 2021.
"They mistreated one tennis player for ten days in order to hand him the decision that they knew from the first day he would serve.
Serbia president Aleksandar Vucic says the Australian government is "humiliating" and "harassing" Novak Djokovic: "If you wanted to forbid him from winning the trophy for the tenth time, why didn't you tell him at first that he could not head to Australia?"

— Luigi Gatto (@gigicat7_) January 14, 2022
"Then the harassment started, the witch hunt against one person and the country.
"[Against] Novak, they wanted to show how the world order works and how they can [act] against everyone. With [this decision], they humiliated not Novak, but themselves."
Vucic is said to have been unimpressed by a reported suggestion during the court hearing that fewer than half of Serbians are vaccinated.
Figures back the president's claim that the rate is higher than that, with almost 60 percent of the population said to have taken shots in a country where there have been more than 13,000 Covid-related deaths.
"In Serbia, the vaccination rate is higher than in many EU countries," said Vucic, naming Bulgaria, Romania, Slovakia and Estonia as examples of nations with lower vaccination rates while calling the court argument "meaningless".
The Serbian Progressive Party chief also pledged to prove that Serbia's administration is "better than the Australian government" when Australian athletes head to Belgrade for the World Athletics Indoor Championships in March 2022.
"I spoke to Djokovic and told him we cannot wait to see him," added Vucic. "I told him he is always welcome in Serbia."
Liberal Party head Morrison addressed representations made by the Serbian embassy in Canberra last week by saying that border rules were not "imposed against any one country or any one individual."
"There is no suggestion of any particular position in relation to Serbia," he insisted.
"In fact, Serbia has been a good friend of Australia and provided very strong support, particularly on security issues globally – and we greatly appreciate that.
"This is a very specific case that deals with one individual and Australia's sovereign border laws and their fair application."
Djokovic is being deported because he has been deemed a risk to public health in a country which has seen some of the strictest rules in the world around lockdowns and vaccination.
The first Grand Slam of the year runs from January 17-30 2022.
You can share this story on social media: