Maradona brother dead at 52 after cardiac arrest
Hugo Maradona, the younger brother of football legend Diego, has passed away after suffering a heart attack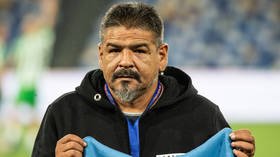 Hugo Maradona has died at he age of 52 at his home in Naples after suffering a heart attack, it was announced on Tuesday. The death comes 13 months after his brother Diego Maradona passed away from a cardiac issue.
Italian publication Fanpage announced that Hugo died following cardiac arrest early on Tuesday – a similar cause of death to that of his brother Diego, who died in Argentina in November 2020.
It comes after he had undergone surgery in 2018 following a routine check-up in hospital.
Like his world famous brother, Hugo was also a professional footballer and represented the likes of Rayo Vallecano and Rapid Vienna throughout a more than two-decade long professional career.
He also represented teams in Venezuela, Uruguay, Japan and Canada.
But despite winning underage caps for Argentina, Hugo's career didn't hit similar heights as his brother who captained his national side to the 1986 World Cup in Mexico.
He remained active in the sport since ending his playing career in 1999 and had coached a youth training camp for promising young footballers in Malta as recently as last month.
Hugo's death comes shortly after he had announced his intention to run for public office in Naples, where the Maradona family remain much-loved figures following Diego's seven-year stint with the club between 1984 and 1991.
"The thoughts of club president Aurelio De Laurentiis, vice president Edoardo De Laurentiis, officials, coaching staff, the players and the whole SSC Napoli family are with the Maradona family after the sad passing of Hugo," read a statement released by Napoli on Tuesday afternoon.
Hugo's death comes just 13 months and three days after the death of his older brother, something which united the global footballing community in grief.
Following his brother's passing, Hugo hit out at the intense media scrutiny under which Diego lived his life - saying that his family had "suffered" due to tabloid attention.
"My other brother and sisters suffer because of all these people who go out and talk about Diego," he said. "We have always been with him and we have never seen these people. I hope there are no social networks in heaven and that Diego rests in peace.
"Our family wants justice, but so many people talk about what happened that they confuse the people who loved Diego. Everyone claims to have been his friends. Why weren't they with him then? This is an amazing thing.
"Everyone who talks about him on TV makes me angry, but not his daughters. The others are just looking for six months of fame.I found out about Diego's death from my daughter. When I went outside that day before I found out, everyone was looking at me strangely.
"When I got home, my daughter called me and said that her uncle had died. I don't know how I got home then. My brother worked miracles on the field, he was an alien."
Hugo Maradona's passing was noted on social media by one of Diego's former teams, Newell's Old Boys, who posted a photograph of Hugo alongside another Argentine icon, Lionel Messi.
"Sad news about the death today of Hugo Maradona, brother of Diego. RIP," they wrote.
Former Premier League player turned football analyst Jan Aage Fjortoft also referenced Hugo's death and noted that the two were former teammates in Austrian football.
"My former teammate at [Rapid Vienna], Hugo Maradona, has died. The brother of Diego was only 52. He died of a heart attack. RIP," said the Norwegian.
A fan, meanwhile, posted a touching picture of the Maradona brothers aling with the tribute: "Diego and Hugo together, have a good trip!"
You can share this story on social media: