Israel bars Russian hockey legends over vaccine status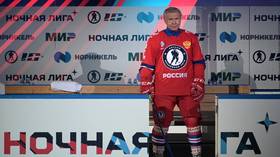 Israel has refused entry to a group of Russian hockey icons due to play an exhibition game in the country after deeming they had received their Covid vaccines too long ago.
Russia was set to send a delegation of 36 people for a 'legends' game on Thursday in Tnuvot, including 24 players and 12 assistants, as part of celebrations to mark 30 years of continuous diplomatic relations between the two nations.
Among the group planning to travel was two-time Olympic champion and NHL icon Vyacheslav Fetisov.
However, the event could now be canceled after the Israeli authorities refused to grant exemptions for 17 of the party – Fetisov included – to enter the country, according to The Times of Israel.
The issue is purportedly because members of the group had been inoculated against Covid too long ago.
Organizer Lev Ganin of the ASCEND non-profit foundation said he "greatly regrets" the decision and was still hopeful a resolution could be reached.
"The decision to not let them enter Israel will not serve our global public relations," Ganin was quoted as saying.
The delegation was also due to promote environmental issues, in line with Fetisov's own fervent activism in that area.
Ganin noted that some of the Russian group such as Fetisov had been delegates at the recent COP26 climate change summit in Glasgow, and had not encountered any issues.
The delegation was reported to be willing to undergo any relevant Covid testing to gain entry to Israel, but to no avail.
The situation comes as Israel stalls on allowing entry to visitors who have received Russia's Sputnik V vaccine.
The Israeli Tourism Ministry had said it would let in guests who had received the Sputnik jab from November 15, but this week pushed that date back until December 1.
Anyone inoculated with the Russian-made vaccine will still need to take a serological test to show the presence of antibodies.
The ban on ice hockey legends is not the first sporting spat involving Russian and Israeli athletes in recent months.
At the Tokyo Olympics during the summer, a row erupted over the judges' scoring in the all-around rhythmic gymnastics final when Israel's Linoy Ashram pipped Russian favorite Dina Averina to gold, despite Ashram dropping her apparatus during her ribbon routine.
You can share this story on social media: