'Solskjaer is playing 4D chess': Under-fire Man Utd boss dubbed 'genius' for supposed role in facilitating Conte move to Spurs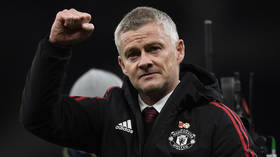 Manchester United boss Ole Gunnar Solskjaer has been dubbed a 'genius' for orchestrating a game of '4D chess' that may have effectively ended the club's pursuit of a possible successor in the Old Trafford hotseat.
After being beaten 5-0 by bitter rivals Liverpool at home, the Norwegian was fighting for his managerial life just last week, with an away trip to Tottenham Hotspur on Saturday being seen by some as the Last Chance Saloon.
Setting his charges up in a 3-4-3, though, the 1999 Champions League final winner got his approach spot on with Bruno Fernandes providing central attacking midfield support to a veteran front two of Cristiano Ronaldo and Edinson Cavani, who boast a combined age of 70.
Also on rt.com
WATCH: Ronaldo hits 'out of this world' volley, provides superb assist as Man Utd bounce back to buy Solskjaer time
For the first strike, a crisp volley already dubbed a Goal of the Season contender, the Portuguese stars combined perfectly with Fernandes setting up Ronaldo as part of a delightful team move.
Then for the second, the five-time Ballon d'Or winner served Cavani while substitute Marcus Rashford later made it 3-0.
Booed by fans for bringing off Lucas Moura and later while trying to perform post-match media duties, Solskjaer's opposite number Nuno Espirito Santo eventually lost his job on Monday after Spurs chairman Daniel Levy pulled the trigger on his sacking.
The front runner to replace Nuno at Spurs is ex-Chelsea manager Antonio Conte, with Solskjaer now being hailed not just for saving his own skin, but also eliminating a key contender for his job after it was strongly suggested that Conte could be in line to replace him at United.
"Say what you like about Solskjaer, but thumping Spurs so soundly they appoint the most immediate threat to his job is tactical genius," it was quipped.
"Save himself by beating Spurs, get Nuno sacked, and take his likeliest replacement off the market (Conte) - Solskjaer is playing 4D chess," was another popular take on the matter.
Now "safe" after reducing the shortlist, it is suspected by the social media masses that Solskjaer can pretty much do what he wants.
This means he can even lose to Atalanta in the Champions League midweek then get hammered by Manchester City at the weekend, yet still come out on top and in gainful employment.
Also on rt.com
Spur of the moment: Tottenham sack Nuno after just four months in charge with ex-Chelsea boss Conte tipped as possible replacement
You can share this story on social media: