PSG women's boss furious after thrashing in game club wanted postponed following horrific iron bar attack on player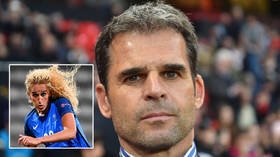 The boss of PSG's women's team has voiced his disgust after his side lost their unbeaten record in a 6-1 thrashing – playing against their will after receiving psychiatric support following a shocking attack on one of their stars.
PSG ended a week marred by a huge scandal with the hammering on Sunday at seven-time Champions League winners Lyon, who are often regarded as the best female team in the world.
Paris beat Real Madrid 4-0 in Europe last Tuesday, only for news to break two days later of Aminata Diallo, who played in midfield in that victory, being taken into police custody over her suspected involvement in a horrifying metal bar attack on teammate Kheira Hamraoui's leg by masked men.
Diallo has since been released without charge and denied any part in the alleged crime, which some media reports in France suggested came as part of a potential positional rivalry with Hamraoui.
Paris players have evidently been left devastated by the harrowing saga, and coach Didier Olle-Nicolle lashed out at French football bosses in a post-match rant, revealing that the club wanted the game called off.
"The team has been surrounded for a few days by a [psychiatric] body. If we requested the postponement of the match, it is because they had an opinion from [their professional standpoint], outside of PSG," he said.
"The opening goal came too easily, and... it was hard to digest for the team. We didn't have the strength to come back.
"When we want to develop women's football and give a good image [of it], there must be a show [and] actors. I ask myself a lot of questions.
"When we play high-level sport, behind it there is an ethic, and when something like that happens... There are only 12 teams [in the division], so there are plenty of dates to play that [rescheduled] game.
"It's amazing that the authorities have not listened and not seen that there was a group in distress. Do you realize the noise that was made, [with] everything that happened?"
Diallo, 26, said in a statement through her lawyer that the conclusion of the investigation will reveal her "complete and total innocence", dismissing the "totally artificial suggestion of a rivalry between her and Mrs Kheira Hamraoui that would explain why she would target her team-mate".
"This theory does not reflect at all the reality of their relationship," it added.
Hamraoui was allegedly dragged out of the car following a team meal at a restaurant before being set upon by her attackers, requiring stitches on her arms and legs in hospital.
PSG are scheduled to play two matches in four days this week, starting with a trip to Real Madrid in the Women's Champions League on Thursday before a home game against Stade Reims in Division 1 Feminine on Sunday.
Canada international Ashley Lawrence was sent off after just 26 minutes of their mauling at Lyon.
You can share this story on social media: