NFL star Henry Ruggs to be charged with 'DUI resulting in death' following 'serious' car wreck in Las Vegas – reports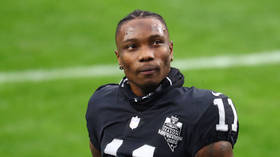 Las Vegas Raiders wide receiver Henry Ruggs III will be charged with 'DUI resulting in death' following a late-night car accident in Las Vegas involving at least two cars, with one person understood to have died at the scene.
Per a report by the Las Vegas Metropolitan Police Department, Ruggs, 22, was judged to be "impaired" by officers who responded to reports of a crash at 3.39am local time on Tuesday for a car crash involving a Chevrolet Corvette and Toyota Rav4.
Emergency personal arrived at the scene to find the Toyota in flames, with a deceased person located inside the car.
An initial investigation has determined that the Chevrolet crashed into the back of the Toyota.
According to police, Ruggs remained at the scene and "showed signs of impairment".
He was subsequently transported to a local hospital for non-life threatening injuries, with police also detailing that he will be charged with "DUI resulting in death."
According to guidelines, the minimum penalty if convicted is two years in state prison with a maximum term of 20 years.
Ruggs was a collegiate star at Alabama where he scored an impressive 24 touchdowns in 40 games for the Crimson Tide before he was drafted to the Las Vegas Raiders with the 12th pick in the first round of the 2020 NFL Draft.
Known to be one of the fastest players in the NFL, Ruggs hasn't quite repeated his college form on the gridiron and has scored just 4 touchdowns in 20 appearances for the Raiders.
Also on rt.com
NFL star arrested for driving under the influence and leaving the scene of a crash after accident in Florida – media
You can share this story on social media: