Republican candidate campaigning to end 'tyrant' Joe Biden's vaccine mandates bizarrely parallels Kyrie Irving jab ruling with HIV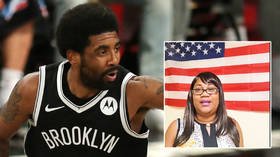 A staunch Republican has bizarrely compared the decision to exile NBA star Kyrie Irving because he has not been vaccinated against Covid to basketball icon Magic Johnson being allowed to play after testing positive for HIV.
Congress candidate Lavern Spicer, an ardent opponent of the Democratic Party who has branded US president Joe Biden a 'tyrant' in a petition urging an end to vaccine mandates, has grabbed the headlines and earned an avalanche of derision for a baffling take on the controversy surrounding Irving.
A scandal has erupted over the Brooklyn Nets' decision to step their star player down after he decided not to become vaccinated, making the shock move because of rules in New York that would preclude Irving from being at games under requirements for adults to receive jabs.
The issue has been divisive, with Irving personally defending his standpoint while his critics berate him in a country where there have been well over 700,000 deaths from Covid.
Spicer's take, though, is decidedly unusual. "They let Magic Johnson play basketball with full-blown HIV," she curiously pointed out on social media. "But [they] won't let Kyrie Irving play because he won't get a Covid shot."
Occasional misguided comparisons between the highly infectious coronavirus and HIV, which is usually transmitted through sex and is not easily passed on, have become one of the many widely discredited lines of argument during the pandemic.
Five-time NBA champion Johnson was diagnosed with HIV before the start of the 1991/92 season, retiring before winning gold at the 1992 Olympic Games and, later, making an NBA comeback, admitting that he regretted quitting the sport because of the controversy.
The story was major news in the US, earning Johnson public praise and admiration alongside criticism and suspicion from some, including fellow players.
"Do you know how HIV is spread?" hugely-followed former NBA player Rex Chapman asked Spicer, echoing the immediate question of many of her readers. "And how Covid is spread? Seriously questions."
"Are you aware that NBA players do not have penetrative sex during a game?" queried another.
Many were left stunned by what they saw as Spicer's apparent ignorance, although she found allies who had made the same argument as she did in presenter Clay Travis and fellow Republican Marjorie Taylor Greene.
"The fascist NBA won't let Kyrie Irving play for refusing a vaccine," said Greene. "But yet they still let Magic Johnson play with HIV."
"That's what I said," replied Spicer, who had described climate change as a "sham cash grab" earlier the same day.
"They don't give a damn about anything but this shot and we have no idea why."
The devoted supporter of former president Donald Trump at the last US election lauded Irving, calling him "the man Lebron James wishes that he was" in reference to the Los Angeles Lakers talisman and social justice warrior.
"Kyrie Irving is one of the best basketball players to ever live, right up there with Shaquille O'Neal, Allen Iverson, Julius Irving, Michael Jordan and Kobe Bryant," she declared.
"Turns out he is one of the most intelligent, too. Kyrie – do not bow to the woke mob. Do what you feel is best, brother.
"The left loved Kyrie Irving when he bought George Floyd's momma a house, but now they're calling for him to be thrown out of the country because he won't get a jab. I just don't get it.
"You guys are caught up with minor details on stuff, but you all need to understand that they are taking away your freedoms over whether or not you will comply with their agenda.
"Stop thinking that you will be exempt because you're on their side – they're coming for you too."
Recalling her defeat to a Democrat at the election, one observer fired back at Spicer: "Minor details is you receiving only 20% of the vote compared to the winner, who got 75%.
"When you try with all your might to be the [high-profile Conservative] Candace Owens of Florida, those decisions show their consequences at the polls."
Also on rt.com
'It's not about the money': NBA's Irving insists vaccine choice is about freedom... but top pundit blasts 'flat-out stupid' stance
You can share this story on social media: