Female boxing champion Shields draws anger by claiming that bisexual Superman character is 'pushing an agenda on children'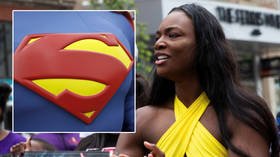 US boxing great Claressa Shields has earned a mixed reaction after announcing she is "disappointed" that the latest incarnation of Superman is bisexual, warning that it is "confusing kids" and "pushing an agenda".
Multiple title holder Shields, who is one of the most successful boxers in US history, is known for her outspoken views, including a self-lionising theory that she is second only to Muhammad Ali.
The 2012 and 2016 Olympic gold medalist could not contain her criticism when she discovered that comics giant DC has announced their new version of Superman will be coming out as bisexual.
"I googled it this morning," the MMA newcomer told welterweight boxing champion Errol Spence, responding to a tweet from him about the news.
"I'm disappointed they would even do that. He's always been in love with Lois Lane."
Some puzzled fans pointed out the flaw in that theory given that the new Superman, Jon Kent, is the son of the Clark Kent character who is traditionally portrayed as being in a relationship with Lane.
When she was told that the character is a relative of the original Superman, Shields hit back: "Don't make it no better."
"I'm nowhere near homophobic," she added to a respondent who asked her to "clear up what the issue is".
"I just don't think that cartoon characters should be bisexual or gay. Leave the kids alone.
"Don't push an agenda on children. To me, that's confusing kids. If a teenager or adult decides to be bi or gay, congrats to them. I have no problem with that."
That caused a torrent of responses. "It's not 'pushing an agenda'," said one. "It's called representation. That's something I know you know the importance of."
Welsh boxer Charlene Jones showed her agreement with Shields, but an MMA fan retorted: "Remember how some people criticized the idea that Superman could be black because it 'pushed an agenda'?
"Superman represents the best of humanity yet can't be bisexual? That's kind of messed up. Also, what is exactly is 'confusing' about a hero who expresses who they can love?"
Shields did not respond on social media, moving on to mention her readiness for her next MMA fight, which is against Abigail Montes on October 27. She won her first fight in the discipline in June, knocking out Brittney Elkin at PFL 4.
Also on rt.com
Female boxing braggart Shields compares herself to Muhammad Ali again as she pledges to become MMA champ in fiery press conference
You can share this story on social media: