'This is real': Fans baffled as Haaland pulls off astonishing 3-ball stunt... but footage appears to show how it was faked (VIDEO)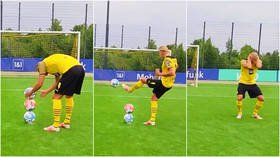 Borussia Dortmund superstar Erling Haaland has gone viral with a sensational three-ball trick in training. But some fan theories have attempted to show that the stunt might have been faked by the Norway striker.
Top transfer target Haaland has been in scintillating form this season with 11 goals and four assists in just eight appearances.
Known for his brutal finishing, the 21-year-old also has skill in abundance and is starting to show that side to his game off in casual training clips.
German top flight the Bundesliga and Dortmund have both shared his latest flourish of sharp-shooting.
In full matchday kit, the imposing number 9 places three balls on top of each other, which Dortmund themselves remarked is "the most impressive part" of the beguiling sequence.
He then gradually destroys a target placed in one of the goal's top corners with each kick.
While most observers were bowled over by the feat, which was watched more than four million times within hours, the naysayers soon crept out.
"After how many takes?," a doubter asked.
"Does it matter? It's amazing," another replied.
Contrary to Dortmund, who insist it is real, others are also convinced it's a fake.
"That's literally two different videos. In the first video he is moving his hands but in the second one he looks straight at the cameras and the ball is moving way too slowly in the green screen one," it was pointed out.
"The green screen one was used to track the path of the ball. He did a real kick and really hit the target – or a different green screen take or angle – and stitched it all together," claimed one analyst.
"It is really basic video editing."
As many have been quick to highlight, the controversy has echoes of the Ronaldinho crossbar challenge.
In his mid-2000s heyday at Barcelona, the Brazilian was captured by sponsor Nike supposedly smacking the ball off the woodwork four times while not letting it drop once as he performed kick-ups between each hit.
Balancing the ball on his head like a sealion, critics found it comical that the World Cup winner managed to hit his target each time from distance, with the ball fell mysteriously falling perfectly into his path every time.
Also on rt.com
'Insane': Haaland continues scintillating form with OUTRAGEOUS lob for Borussia Dortmund against Union Berlin (VIDEO)
You can share this story on social media: