UEFA opens investigation into England supporters after Wembley crowd violence mars Euro 2020 final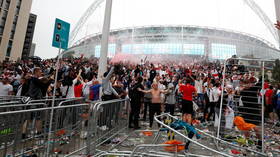 UEFA has launched disciplinary proceedings following the chaotic scenes which took place in and around Wembley on Sunday after hordes of supporters attempted to force their way into the stadium ahead of the Euro 2020 final.
Hundreds of ticketless England supporters – later described by the FA as "drunken yobs" – stormed the home of English football in a bid to gain entry to Sunday's final against Italy in events which led to 53 arrests inside the stadium and several more outside of it.
Social media footage detailed the unrest inside the stadium as English fans fought with one another and were seen openly taking part in drug-taking in scenes which were slammed by the UK government, as well as other bodies like the WHO who suggested that the incident was a "disaster" in the context of Covid-19 prevention.
England lost the game in a penalty shootout after extra time.
And it seems as though the hangover from this episode will be a prolonged one after UEFA opened a probe into the events at Wembley – and the FA has been hit with four charges related to the behavior of its fans.
These included causing disturbances during the national anthem, pitch invasion, the throwing of dangerous objects and lighting fireworks inside the stadium.
"Separately, a UEFA ethics and disciplinary inspector has been appointed to conduct a disciplinary investigation into events involving supporters which occurred inside and around the stadium," said UEFA.
"Information on this matter will be made available in due course."
This comes just days after European football's governing body opened a similar probe into various events which took place during England's semi-final win against Denmark, which was also at Wembley.
On that occasion, Denmark goalkeeper Kasper Schmeichel was targeted by supporters with a laser-pen while he was preparing to face a pivotal penalty from England skipper Harry Kane. England were subsequently fined a sum of just over £26,000.
Also on rt.com
F1 star Lando Norris 'shaken up' after £40,000 watch stolen by muggers during Euro 2020 final chaos at Wembley
A stadium ban being imposed on English football is among the potential penalties that England might face following the UEFA investigation. Hungary was recently handed a two-game spectator ban after their fans were found to have acted in a homophobic and racist manner during a game in Budapest.
FA chief executive Mark Bullingham, meanwhile, has apologized to England fans who had purchased tickets but were affected by the violent scenes within the stadium, amid reports that ticketless fans stole seats which were intended for other supporters. He also pledged to conduct a large scale internal review into the situation.
Bullingham added that fans found to have broken into the stadium will be banned from attending future matches by The FA.
You can share this story on social media: