Monkey emojis to black England stars 'probably not against community guidelines' says Instagram in responses to furious fans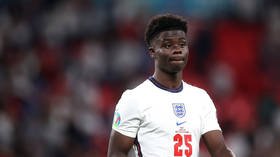 Football fans have lashed out at Instagram for the responses they received when reporting racist abuse lodged at English footballers after a trio of them missed penalties to hand Italy the Euro 2020 title at Wembley.
Bukayo Saka, Jadon Sancho and Marcus Rashford were all abused in the aftermath of England's defeat in their first major final in 55 years.
Their social media pages were hit with monkey emojis and racist messages, which forced Facebook and Twitter to claim it was taking down hateful content widely condemned by the likes of the English FA and British Prime Minister Boris Johnson.
Also on rt.com
'It starts at the top': England trio racially abused after missing penalties in Euro 2020 defeat – and some blame PM Boris Johnson
However, some users have relayed accounts of being told that monkey emojis and uses of the n-word were probably not considered racist.
"I've spent an hour today reporting racist accounts. But according to Instagram monkey emojis and the N word are okay," said person one on Twitter.
"Instagram said that the banana and ape and monkey comments on Saka's photo weren't against community guidelines. Come get your algorithm, Instagram," claimed another.
Contacted by the Daily Mail, Instagram said that, when used in this context, these emojis were indeed a violation and claimed they were laboring to take them off the internet.
Elsewhere, Twitter said that "the abhorrent racist abuse directed at England players last night has absolutely no place" on its service through a spokesperson.
"In the past 24 hours, through a combination of machine learning based automation and human review, we have swiftly removed over 1,000 Tweets and permanently suspended a number of accounts for violating our rules — the vast majority of which we detected ourselves proactively using technology," it added.
Separately, Facebook said it had "quickly removed comments and accounts directing abuse at England's footballers last night and we'll continue to take action against those that break our rules".
"No one thing will fix this challenge overnight, but we're committed to keeping our community safe from abuse," the Mark Zuckerberg-owned company, which owns Instagram, vowed.
Alongside the likes of Manchester United legend and Sky Sports pundit Gary Neville, Culture Secretary Oliver Dowden joined other voices calling for social media giants to better regulate certain users and their abuse.
"Social media companies need to up their game in addressing it and, if they fail to, our new Online Safety Bill will hold them to account with fines of up to 10 per cent of global revenue," he tweeted, and it is perhaps only by being hit in the pocket that the companies will take the action required.
You can share this story on social media: