Rackets and Australian Open dreams broken for Daniil Medvedev as 20-match winning run ends against Novak Djokovic in final (VIDEO)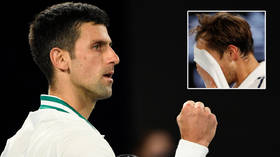 Russian tennis ace Daniil Medvedev posed questions of Novak Djokovic before the world number one capitalized on his mistakes for his ninth Australian Open title, easing to a straight sets win with a dominant display in Melbourne.
Entering the final on a scintillating run of 20 successive victories, Medvedev could have had a very different day had he not been broken in the final game of the an intriguing first set, losing 7-5.
The ATP Finals winner responded in the best way possible by breaking the 2020 champion in the first game of the second set, only for Djokovic to break back immediately.
That dream start was as good as it got for Medvedev in the second set, and he consummately vented his frustration by obliterating a racket as Djokovic set the tempo in inimitable style, charging into the ascendancy by claiming five of the next six games on his way to a 6-2 triumph.
The world number four struggled to regain his composure, producing a succession of open-armed gesticulations while appearing to argue with his box - an occasional feature of his successful tournament - while Djokovic cruised to open up another comfortable lead.
Medvedev had a glimmer of hope in the seventh game of the set, threatening to break back at 4-2 and finding himself a little unlucky to be on the receiving end of a shot that dropped inside the line by the narrowest of margins at 30-30, causing Djokovic to roar his approval at his box and, after winning the point that followed, repeatedly tap his head in an apparent indication of the determination he had drawn upon to ward off the danger.
Djokovic promptly broke again to seal a 6-2 third-set win, although the final game was not without incident as Medvedev backed up an umpire call for the crowd, who had fervently backed the Serb throughout, to curtail their cheers.
That was only a temporary respite as Djokovic took Championship point at the first time of asking, falling to the floor and slapping the court after sealing his 18th Grand Slam win with a masterful performance to retain his Australian Open crown.
"It's never easy to speak when you've just lost a final of a Grand Slam so I'm going to try my best to speak better than I did on court," said a gracious Medvedev afterwards, praising Djokovic in a display of their longstanding friendship.
"It was not the best day today after a good three months in some tough circumstances, so thanks [to my team] for keeping me in Australia for a long time. Hopefully we're going to hold a Grand Slam soon.
"Me, Novak, all tennis players at some point would not have been happy about quarantining or something else, but I would not be standing here with this finalist's trophy if this tournament had not been played, so thank you for making it happen.
"To the fans, I really wanted to make this match longer and more entertaining for you, but today was not the day. Your energy is very good."
Calling Medvedev "a class act" while predicting it was a "matter of time" before his victim won a Grand Slam, Djokovic said: "The experience of playing many majors maybe helped me to start better tonight.
"It was a tight first set but I managed to find the right shot and break his serve at the right time - it was a huge relief to break his serve at 6-5.
"Even though it was then 6-2, 6-2, it was still anybody's game at the beginning of the sets. I knew what he was capable of, I knew his game very well. He's in great form so I tried to stick with him and not give him too much.
"I think I gave my best performance of this tournament. I felt that I was constantly in control. He wants rhythm and has a huge serve: one of the keys was returning. He was serving tremendously well throughout the tournament, but not tonight.
"I positioned myself well, always gave him another shot and gave him his own medicine on court. We went back and forth in some long rallies and I stayed with him because I know that I have the shots from the backhand cross-court. There was variety but at the right time: a mix-up rather than Plan A."
Also on rt.com
Yet again, Novak Djokovic rises above the slings and arrows to prove his class on court
The all-time great has had a testing time off the court, including criticism for his attempt to discuss player welfare with Tennis Australia CEO Craig Tilley.
"There are a lot of mixed feelings about what has happened in the last month or so with tennis players coming to Australia, but I think when we draw a line, in the end, it was a successful tournament," he reflected.
"I want to congratulate Craig Tilley and the organizers for making a great effort. It was very challenging on many levels but I think they should be proud of themselves.
"I would like to thank the Rod Laver Arena: I love you more and more each year, it's a love affair that keeps going."
Also on rt.com
Queen of Oz: Osaka outguns Brady to win Australian Open as Japanese ace picks up 4th Grand Slam title
You can share this story on social media: