'Bikini queen' WWE star Green sends internet into frenzy with revealing beach bikini shoot as she jokes about wrestling great Cena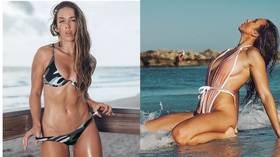 World Wrestling Entertainment (WWE) star Chelsea Green has set pulses racing with a revealing beach photoshoot in which she also joked about wrestling superstar John Cena, causing fans to label the SmackDown star a "bikini queen."
The 29-year-old shared a picture of herself wearing a khaki bikini which barely covered her sun-tanned body.
"Any caption I write will be turned into a John Cena joke and I've accepted that," she wrote, triggering an avalanche of complimentary reactions from her followers who called her their "bikini queen."
The picture, taken on a Florida beach, has earned more than 30,000 likes on her page, where she has amassed more than 563,000 followers.
The social media show-off enjoys posting bikini snaps proudly demonstrating a body toned from intense training sessions.
Green made her SmackDown debut last month but was forced to put her career on halt after breaking her wrist in a four-way clash with Liv Morgan, Tamina and Natalya.
The Canadian became the Impact Knockouts champion three years ago, fighting on the Total Nonstop Action promotion.
Also on rt.com
'We are devatasted': Man DIES after completing athletic challenge on 'extreme' US TV show Wipeout fronted by WWE great John Cena