Big deal: Stunning female Russian MMA 'warrior' who finished 240-KILO man in freakshow signs multi-fight Bellator contract (VIDEO)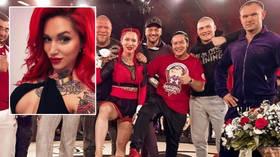 Fearless female fighter Darina Mazdyuk, who became a viral sensation last month after she saw off 240kg (529lb) blogger Grigory Chistyakov during an exhibition showdown in Moscow, has been handed a contract by Bellator MMA.
Mazdyuk won the intergender fight by technical knockout, overcoming a staggering 390lb weight difference to earn a confident first-round win in only 90 seconds.
The bout, which was staged by promotion "Our Business", saw the 28-year-old stun Chistyakov with a series of stinging punches, keeping the pressure on as her hulking opponent collapsed to the mat.
With Chistyakov lying face-down on the canvas, Mazdyuk bombarded him with a series of strikes that forced her rival to tap out a submission as he suffered a quick defeat.
The fight went viral on social media and attracted the attention of Bellator MMA, which has added Mazdyuk on a multi-fight deal, according to MMA Fighting.
"As of today, December 16th, I am officially a Bellator MMA flyweight," Mazdyuk told her following of almost 34,000 on Instagram, targeting a division that is headed by former UFC champion Cris Cyborg.
Mazdyuk has won four of her five senior bouts, including two knockouts, but the move has not been unanimously welcomed by fans.
"I always think Bellator could maybe be a good organization and then they go and do this," rued one, causing another to reply: "She could be a good prospect."
Others joked that they were surprised Logan and Jake Paul, the YouTube sensations who have moved into boxing and called out a variety of huge names for fights, were yet to challenge Madzyuk.
Among Mazdyuk's compatriots, eight-time Russian sambo champion Marina Mokhnatkina is also a Bellator featherweight, while Diana Avsaragova fights in the flyweight division for the promotion.
Mazdyuk reported back to her fans as footage of her latest fight went viral, asking them to pick her next opponent.
"I often receive messages that I need to be looked after and not fight in a cage," she told them earlier this month.
"I hear and even read the opinion that women who are engaged in 'male' types of activities do not need a strong shoulder, tenderness, affection, care and so on - that women who enter into male territory, so to speak, lose their right to be soft in relationships and their right to be loved.
"People - often men - use arguments and double standards to justify their own weaknesses.
"It is always easier to criticize a woman for her strength than to honestly look at yourself and start working on yourself and developing - namely, being a man.
"By 'being a man', I do not mean being a jock, as many people now think. Let's remember the Vikings - there have always been warriors."
Also on rt.com
Sometimes size DOESN'T matter: Female bantamweight fighter TKOs 240-KILO blogger in freakshow MMA fight
You can share this story on social media: