'I love you, Diego': Brazilian football legend Pele leaves emotional message to late friend Maradona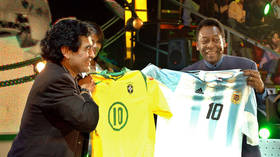 Brazilian football icon Pele has left a heart-melting message to his deceased Argentinian counterpart Diego Maradona one week after his tragic passing, admitting that he was an "incomparable genius" whom he really loved.
In a lengthy Instagram post, the three-time World Cup winner compared Maradona to a "magician" and regretted that his sudden death hadn't allowed them to say goodbye to each other.
READ MORE: 'We'll kick a ball together in the sky': Brazilian football legend Pele mourns death of Argentinian great Diego Maradona
"Many people loved to compare us all their lives. You were a genius that enchanted the world. A magician with the ball at his feet. A true legend. But above all that, for me, you will always be a great friend, with an even bigger heart," Pele wrote.
"Today, I know that the world would be much better if we could compare each other less and start admiring each other more. So, I want to say that you are incomparable.
"Your quick departure didn't let me say it to you, so I will just write: I love you, Diego," the legendary player added, repeating once again that one day they will play together on the same team in heaven.
Pele and Maradona are widely regarded as two of the greatest footballers in history. They were named joint winners of the FIFA Player of the Century award in 2000.
Maradona died on November 25 after suffering a heart attack at his home on the outskirts of Buenos Aires.
Also on rt.com
Maradona's magic moments: RT Sport relives FIVE of the most iconic memories from Diego Maradona's legendary career (VIDEO)