'Good to see they're in touch': Fury at football boss as his stunning Russian wife flaunts $182k Bentley despite club money woes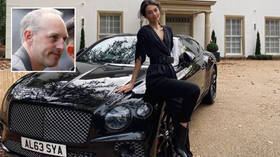 Fans have slammed the chief executive of an English football club after his wife flaunted her new car on Instagram, criticizing him after Bournemouth asked for government help to pay staff during their time in the Premier League.
Russian beauty Alesya Blake, the wife of 41-year-old club chief executive Neill, posed with the Bentley she had been gifted by him in her latest glamorous snap on her Instagram account, which she was forced to lock as news of the luxurious purchase spread.
Players and staff sacrificed wages at the club as the pandemic hit football earlier this year, with the Cherries' hierarchy receiving fierce criticism as financial figures revealed that pay for their directors had risen by 876% between 2013 and 2019.
"Warms the cockles of the heart to see Bournemouth's CEO buy his young Russian wife a £140,000 [$182k] Bentley as an early Christmas present," wrote a football finance expert on Twitter.
"Good to see those in charge of the [tax haven] British Virgin Islands-owned club, that used the furlough before fans complained, are in touch with the fans."
Supporters rowed over the picture of Blake with the car, which had a private numberplate bearing her first name.
"The disconnection between those above and us on the ground is just too vast - it's unreal," said one, while another added: "If you have a banger on the driveway and can't afford your bills, you should be furious."
An angry respondent claimed: "He used furlough, then bought the Bentley. So in effect, we collectively bought his missus this car."
Others drew a distinction between the extravagant present and the fortunes of the club, which is owned by Russian businessman Maxim Demin and was relegated from the Premier League to the Championship at the end of last season.
"Tricky one for me, this," said one. "While I agree with the sentiment, this bloke should be able to buy his wife what he likes with his money. I suppose the daft bit is [her] announcing it to everyone."
Little is known about owner Demin, although Sky Sports has reported that he owns a petrochemical firm and another company based in the UK, with assets valued at more than $130 million in 2015.
The reserved investor's wife gave a team talk to the club's players at half-time during a game in 2012, a year after he initally bought half of the club.
Former manager Eddie Howe, who was among the staff to take a paycut this year, once described him as "caring deeply".
In a rare announcement on the club's official website after Bournemouth dropped out of the top flight, Demin said he wanted to "create new memories".
"I am committed to taking this club back to the Premier League as soon as possible, to a level I believe we belong at," he told fans.
"AFC Bournemouth is built on unity. Whatever challenges this club has faced historically, togetherness has always been its greatest strength."
Bournemouth's annual accounts showed that the club's highest paid director was paid around $2.5 million in 2019.
Former assistant boss Jason Tindall - another member of staff to help the club during its apparent financial worries - has guided Bournemouth to second in the Championship table with almost a third of the season gone.
Also on rt.com
'Nasty insults': Stepdaughter of Zenit boss Semak blocks fans over abuse as latest loss fuels rumors Russian faces chop
You can share this story on social media: