'Real life hits hard too': Evgenia Medvedeva says her exhibition program was dedicated to 'painful' first love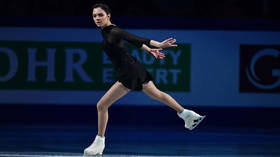 Russian figure-skating star Evgenia Medvedeva has revealed that he exhibition routine 'Experience' was inspired by her first relationship, which caused her to suffer.
The 20-year-old said that her partner, whose name remains unknown, had left her "at the worst time" apparently referring to the moment when she switched coaches and went to train to Canada.
READ MORE: 'Tonya Harding scandal was a one-off': Evgenia Medvedeva says figure skaters don't put glass in rivals' skates
The two-time world champion noted that she tried to express her feelings on the ice, creating the program which, she thought, was wrongly interpreted by her fans.
Medvedeva revealed that she felt helpless after her relationship was ruined, adding that she is not exclusively concentrated on her sporting career.
"'Experience' was about my first relationships. About a pain when the most favorite person is leaving you at the worst time of your life and you realize that all was just a game to make him feel better," the skater wrote.
"It's about the struggle of losing a person but of an anger and feeling helpless at the same time. I had different ends of this number. It depended on the current condition of that relationship. But the last one finished sad. Take a look at my 'Experience' [routine] with a right eye. Not everything is about career. Real life hits hard too," she added.
The Olympic silver medalist was rumored to be dating Japanese superstar Yuzuru Hanyu and Bulgarian pop singer Kristian Kostov, but she didn't confirm the reports which were circulating online and said that they were just friends.
In 2018, Medvedeva moved to Canada to train under the famed specalist Brian Orser, after a painful split with her previous coach Eteri Tutberidze.
The skater is getting ready for a new season in Russia and will join Orser in Toronto as soon as international flights resume.