Quad generation: 12yo Russian figure skating prodigy nails INSANE jump at training session (VIDEO)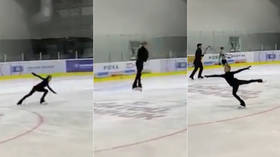 Russian figure skating prodigy Veronika Zhilina has wowed her fans by successfully landing a quadruple toe loop during a training session in Moscow.
The 12-year-old who left Eteri Tutberidze's group in May has been training under the guidance of two-time Olympic gold medalist Evgeni Plushenko.
READ MORE: 'I'm at an age where it's difficult to learn quads,' says 20yo Russian figure-skating champ Evgenia Medvedeva
Plushenko shared a video of the skater's successful attempt which shows Zhilina effortlessly making four rotations before landing the jump.
Plushenko and Tutberidze were embroiled in a fierce online spat after the former skater commented on Alina Zagitova's career break suggesting that she might have retired.
Tutberidze in return accused Plushenko of being a fake coach who doesn't even attend skaters' training sessions.
Their relations deteriorated after one of Tutberidze's brightest stars Alexandra Trusova quit her camp to be coached by Plushenko.
You can share this story on social media: