'I will do a quad next season': Elizaveta Tuktamysheva vows to challenge Eteri Tutberidze's young skating champions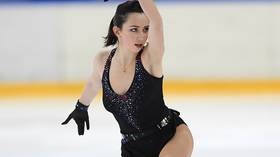 Russian figure skating ace Elizaveta Tuktamysheva has shared her plans for the next competitive season, revealing she will be attempting to land a quadruple jump in her programs.
During an Instagram Live chat the 23-year-old said she is continuing to train in lockdown, collaborating with her coaches and choreographers online.
READ MORE: Mind-blowing! Watch Russian 11-year-old figure skating prodigy Sofia Titova effortlessly landing QUADS on hard ground (VIDEO)
"After failing to qualify for the world championship, I had enough time to work on new programs for the next season. So I have short and free programs almost ready. They were created online," the skater said.
The 2015 world and European champion said she is ready to throw a quad in her programs, stressing, however, she will need to polish the jump after a long break from training on the ice.
"I'm planning to include a quad into my programs. But due to the fact that we haven't skated for a long time it would be difficult to execute it in the beginning of the season. But I will do everything possible to land it," she added.
She is one of the few skaters who pose a threat to Eteri Tutberidze's dominance in female skating, having a quad toe loop and triple axel in her technical content.
Last season, all major figure skating events were won by Tutberidze's quad-jumping skaters, who swept the podium at the ISU Grand Prix final and the European Championships.
You can share this story on social media: