'Just wow!': Olympic champ Yuzuru Hanyu breaks men's short program world record at Four Continents (VIDEO)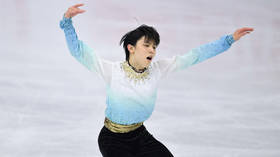 Japanese figure skating icon Yuzuru Hanyu proved he is in excellent shape ahead of the season-ending World Championship by setting a new world record in the men's short program at the ISU Four Continents tournament.
The 25-year-old, who's trained by renowned Canadian coach Brian Orser, nailed all of his jumps including a quadruple Salchow and a quadruple toe loop in combination with a triple toe loop.
READ MORE: 'It's offensive': Russian star Evgenia Medvedeva slams Netflix drama 'Spinning Out' for showing figure skaters drinking alcohol
The stunning performance on Friday landed the two-time Olympic gold medalist a whopping 111.82 points, beating his own world record registered at the 2018 Rostelecom Cup in Moscow by more than a point.
Hanyu, who took a comfortable lead in Seoul, South Korea, is followed by China's Jin Boyang and American Jason Brown who are in current second and third places respectively.
Earlier the Japanese star announced plans to throw a quad axel – an element which has never been performed at an international competition by any skater in the world.
The ISU Four Continents championship is a figure skating event featuring participants representing the two Americas, Asia, Africa, and Oceania.
You can share this story on social media: